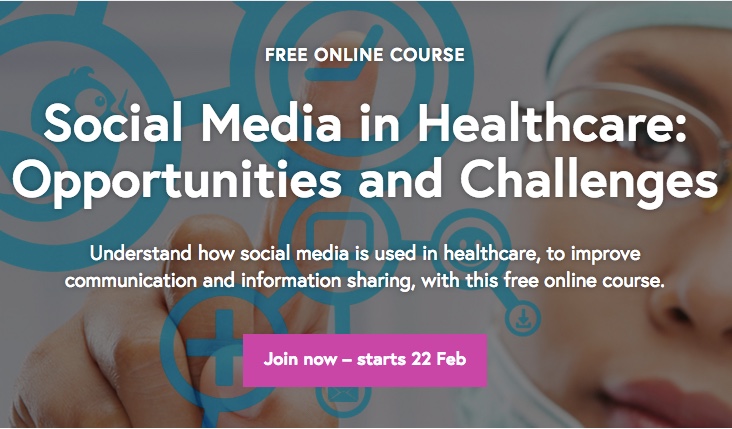 This post is about a specific course, the concept behind its technology, and what it means for the future of learning. For people who know about MOOCs this will be old news; for people who don't, I hope this will be enlightening. It's a big change.
For years I've heard about MOOCs – Massive Open Online Courses. As Wikipedia says, "…an online course aimed at unlimited participation and open access via the web." I first wrote about the idea three weeks ago, in Reusable building blocks: a speech by video Q&A, but I'd never touched a MOOC, until recent months when I got involved with one.
It's a free course (that's the "open" part) that ended last month, and will start again in two weeks: Social Media in Healthcare. Specifics:

Five weeks, Feb 22 to March 25
Approx. two hours per week: watching short videos, assigned readings, participating in optional online discussions.
Hosted by Taipei Medical University on the FutureLearn MOOC platform
Organized by Dr. Shabbir Syed-Abdul; other instructors include Elia Gabarron and Luis Fernandez-Luque, two Spanish members of the Society for Participatory Medicine.
My module is titled Patient Empowerment through Social Media. I cover what empowerment is, specifically get into how social media can enhance it, and, for contrast, discuss some of the limitations of traditional medical knowledge: the weaknesses of peer reviewed literature, the "lethal lag time," etc., all making the case that social media are truly a legitimate source of empowerment.
Big idea 1: MOOCs are highly accessible
To be clear, this is not your ordinary college course: it's a highly democratic, open course, which anyone can join – there are no prerequisites. You can join, your mother can join, your bus driver can join. There is no supervision, nobody checks whether you're doing the work (though you're asked to submit an essay at the end), nobody chases you if you don't. All a student needs is access to the internet, and to do the work and get value out of it.
The first session had over 4,000 participants in a dozen countries.
Note: this is not a Pollyanna perfect world. MOOCs can be chaotic and there are no guarantees of quality. It's a free space in which people can pull together what they have available and make something of it. And some say MOOCs have already passed their peak; if you want, read more in the Wikipedia article.
What excites me as an evangelist is that this is so democratic – both on the consuming side and the creating side. So often a culture change is impeded by obstacles to creating something new or getting at it to consume it. Not so with MOOCs. As always that means there's some garbage out there, but it also means people who do have good ideas have a great big new microphone.
Big idea 2: MOOCs can be built out of existing content
When Dr. Syed-Abdul first asked me to create a module, it was at the peak of my busy season. I didn't have time, so we just pulled together links to existing material.
Then, before my week (the final week of the course) I pulled together some relevant slides and recorded a 13 minute video. They blended them into a composite presentation in their format and posted it at the start of the module and off we went.
The real juice happened, as usual, in the discussion, as a few dozen people raised questions, some skepticism, and some amazement at how the world is changing.
Have you ever thought of pulling together links and videos you've seen (or created) into a self-made line of thought?
Explore, please.
You know you wouldn't be reading this blog if you weren't interested in how new things are becoming possible. :)
Anyway – you can register for this course if you want, to learn something about the subject or just to experience a MOOC. Or browse all of FutureLearn's courses, or any of the other platforms in the Wikipedia article. (You can also read there about the criticisms and critiques of MOOCs.)
What would you do, if you could pull together a course out of articles you've read, links you've collected, and videos you've seen?