I'm taking the extraordinary step of rerunning, verbatim, an entire post from the e-patient blog in 2014 about this important development. Why? Because tomorrow an update is coming, and to fully appreciate the news, you need the background.
Looking back on this, I see it sums up tons of different issues that have turned out to be important to a key question about how best to do healthcare: how do we know which information is reliable, and how can we improve how we get there?  The answer is clearly not to only listen to the medical literature, which, it turns out, has important delays and quality problems. To understand that radical statement, read the links in this long post.
---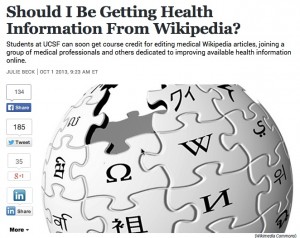 Peter Frishauf, member of the editorial board of our journal, has brought what is to me the most exciting news for participatory medicine since the OpenNotes project. Importantly, this news may have broader implications – because it addresses one of the core challenges of patient engagement: the quality and freshness of medical articles.
Last fall [2013], UCSF School of Medicine professor Amin Azzam started a course for fourth year medical students to become Wikipedia editors and apply their skills to Wikipedia articles that were important to them and were poor quality. It got big-name media attention (NY Times, The Atlantic), and it should – because as we've often written, one of the core challenges e-patients face (and doctors face!) is finding up to date, reliable information.
This is not a trivial question – you can't just rely on the peer review process, because it too has flaws, and good luck ever getting mistakes fixed. The biggest example is the ongoing vaccine controversy caused by a massive failure of peer review in the top-tier journal Lancet, but there are many others. Another shortfall is what our movement's founder "Doc Tom" Ferguson called "the lethal lag time" – the years of delay between a result being discovered and the time it reaches doctors.