This post is an unusual project for me, and not everyone will want to do it, but I know some will want to pitch in, and maybe someone out there will have a magic wand to undo the harm that's apparently been done by years of stonewalling.
---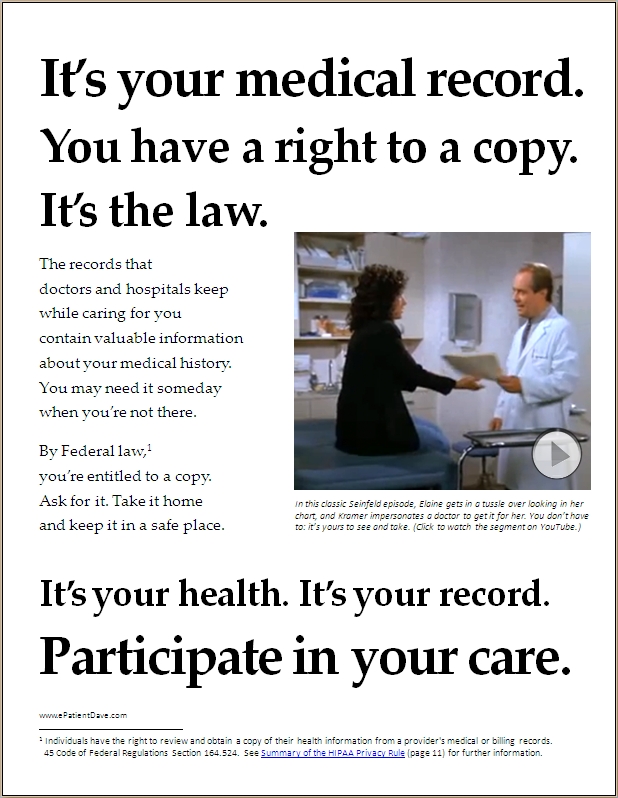 Ten years ago this week I published one of my first blog posts about HIPAA (right), the law that (among other things) gives us a right to a copy of our records. But as people have learned too often throughout history, having a right doesn't mean you'll get what's rightly yours. Sometimes you have to fight. And sometimes you lose anyway. That's just not right.
I'm assisting a GoFundMe request from a patient who's been trying for years to pursue a disability claim that requires documentation from the care providers. S/he experienced years of foot-dragging and resistance from them, then got 63 pages (ridiculously incomplete for the amount of care involved), kept fighting, then they suddenly found hundreds more pages, but still not the whole thing. She/he's ultimately decided there's nothing more to be done, and is asking for help toward his/her thousands of dollars in legal fees.
I'm asking you to consider contributing what you can.
Disclosures:
I haven't met the patient; for a variety of reasons s/he wants to remain anonymous. If that means you want to not participate, that's absolutely fine.

I have no way of verifying that everything the GoFundMe page says is true, though it looks entirely credible and matches many other stories I've heard. It fits a pattern that's all too familiar.

I've worked with him/her for a month, for a modest fee, on thinking out how to word what the site says. S/he has accepted some of my suggestions but not all. If the fee means you want to not participate, that's fine.
Having said that, if you want to know more, read on.
---
The GoFundMe page starts like this:
Please support my fight for my rights

I am starting this fundraiser to ask for your support, after six years of legal struggles to get my medical records, struggles that have drained my family's savings. I am owed a disability settlement, and was denied it expressly because my medical records were incomplete, despite having spent years requesting them without success.
On the GoFundMe s/he's attached redacted photos of various letters to and from OCR (Office for Civil Rights, which administers patient data rights under the HIPAA law that governs health data privacy and access). You can also see the 2016 invoice for 63 pages, then (this past January) the 371 additional pages – billed at the (legal but) outrageous price of 75 cents a page:
---
Several other images are on the site.
The problem: citizens have no "right of action."
I'm one of many patients who've agitated for years for patient data access. I know HIPAA gives us a right to our medical records, a right that is rooted in the more fundamental right to fix mistakes. (How could we check for mistakes in the chart, without seeing what it says?)
I've blogged about it many times, and agitated for a "health data spigot"; it's even my social media avatar (see image).
But I never realized until 2019 – when it hit me with a shock – that if a hospital doesn't comply, you can't call the cops. I have no idea how that came to pass – I expect it had to do with some sleazy lobbyist, as so often turns out to be the case when we find inexplicable policies in Washington that favor the industry. (We know that was a factor in why EMR systems suck so bad: vendors lobbied to ensure that usability would not be required!)
In any event, the legal term is that "there's no individual right of action." And that realization, combined with the final OCR letter attached there, has led the family to conclude that the fight is over.
I hear that people are hoping this will change, but that won't do any good for this case that's been under way for six years. It's truly an unfair system, and suffering is the result.
Please read, and pitch in if you want.
The GoFundMe page again is Please support my fight for my rights. Read what's there. (Believe me, we removed a lot of detail to stick to the core issue: patient needed data, patient fought for data, patient was stonewalled, patient hired lawyers, eventually more data came through, but ultimately not enough, and patient is left with no way to prove something exists: with no right of action, there's no "discovery phase" of a legal action.)
Again, I have no way to verify every detail of the story but it's credible enough that I'm supporting it. If you will too, thanks. While we continue to fight to fix the problem with better regulations, perhaps you'll see fit to contribute to this patient's years of suffering, as the case is laid to rest.