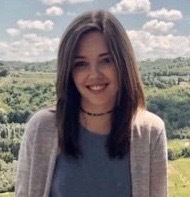 Last week at the virtual DevDays conference (for the FHIR software standard that I've blogged about so much) we held the second Patient Innovator Track. Watch the winning pitch, 10 minutes long, from Morgan Gleason, fresh out of college. She describes her complex situation and how she's learned to deal with it manually, and tells the FHIR developer community what she needs – what she wants them to help create, so she can walk into each doctor visit fully prepared without going through all the work she has to do now:
Man was she effective. Before her presentation even finished, a discussion had started on the "Zulip" FHIR chat board and went on for two days, interesting dozens of people from many companies. As you'll see, her "ask" in the video was specific, practical, and credible, and now people are already talking about how it might get created.
Morgan has juvenile dermatomyositis, a very rare and complex autoimmune disease. It requires lots of medical attention, hospitalizations for infusions, and careful self-management. In the week when she created this video she wasn't well… two days later she tested positive for COVID-19, on top of the JD! Her prize was well earned.
What FHIR promises to do
Morgan wants all this information that's in 23 different computers to be pulled together into one place so everyone's on the same page. Makes sense, right? But it's never been possible without extraordinary manual effort.
Plus, she'll surely need to add things that are in no computer yet – recent history of ups and downs, news since the last doctor visit, anything else that doesn't fit in the computer's "mental framework."
FHIR provides a way for computers and apps to request such information from each other, so it flows automatically, just like with websites. Last month I blogged a simple illustration of how it works.
Of course just as with websites, programmers are still needed to organize the information and make it readable when it arrives – but there's never before been any way to even get the data. On March 9, though, the US government declared that FHIR shall be the way data shall move around, including to your apps. So now the fun begins: there's much work to be done, but just as with the birth of the internet and all the changes since then, at long last for health data it's "game on."
One of the things I love about the FHIR is that it's open source – not a commercial product. Another is that the FHIR community is that it's completely public: that chat board above is open to anyone to read or even to speak up.
Congratulations to Morgan, who will receive the $2500 first prize. (Next up, I'll present the winner of the Audience Choice award.)
If you're already a Patient Innovator or would like to submit your innovation idea for the next event this fall, stay tuned.
---
New to FHIR?
What's FHIR? I've been blogging about it for more than a year; here are all the posts, newest first, though if you're new to the concept please start here.