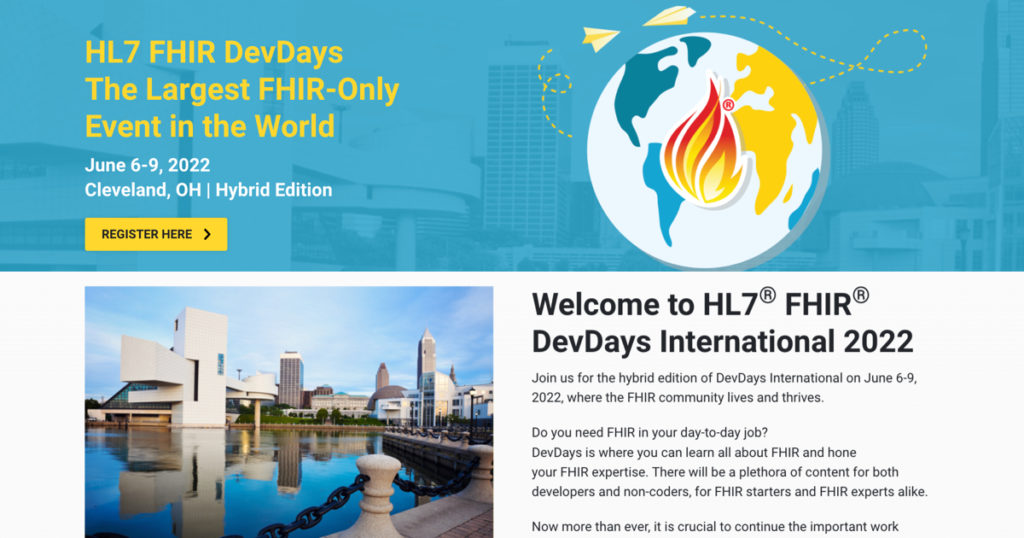 I'm thrilled to share the next great news in the recovery and reboot of the healthcare conference world. Two weeks ago I shared "We're back!" about my next real-life keynote in Berlin – the first in two years. Now this, also the first in two years: FHIR DevDays, the twice-annual conference for software developers working on FHIR, the health data interoperability standard I've often blogged about. I'm equally thrilled to again be the DevDays Patient Track lead. It will be so good to see people again and enjoy the random encounters in hallways and pubs.
Three patient sessions
This year's event will have two sessions specific to the patient as a (very) active partner in health, using their health data:
a keynote by an amazing yet little-known patient (we're going to fix that)
a session on the FHIR patient empowerment specification that's closest to completion: Patient Requests for Corrections.
I'll have more to say in the coming weeks about each of these.
I'll also participate in the conference-ending closing roundtable.
This isn't your grandfather's FHIR: it's Federal policy now
There's new import and impact to the FHIR community: while it was developed as a software standard for anyone to use, in April 2021 it became federal policy: all US healthcare providers who receive federal funding (which is virtually everyone) must make your health data available via a FHIR interface. This will roll out in stages in next couple of years.
This will, at long last, enable the long-awaited ecosystem of apps and tools you can use for yourself and your family, to start gathering all your health information.
As I've said many times before, I'm absolutely thrilled that both the HL7 standards organization and the DevDays conference in particular are proactively supporting engagement of patient and family voices.