I often hear about how patients are a major part of the cost problem – their "non-compliance," their wanting everything they can get, wanting it for free, etc.  So, let's see what happens when a patient who wants to help cut costs gives it a try.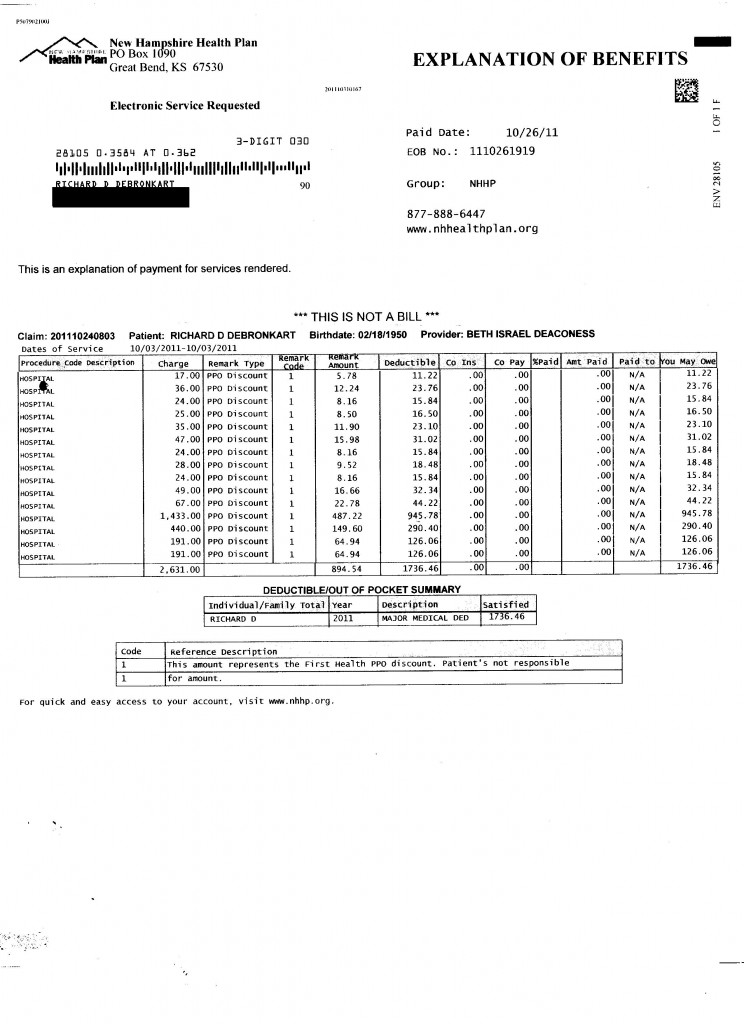 I was recently scheduled for a semi-annual test, four years after my treatment ended. I thought, "Hm, could I save costs by getting it somewhere else? Perhaps even find a place with higher quality? Get more for less? That's what consumers like to do." It turns out that information isn't readily available. Next time I'll hunt, but this was in the middle of my busy travel season.
Anyway, the bill just showed up. Actually it's not a bill ("THIS IS NOT A BILL"), it's an "explanation" of benefits. But take a good look at it, folks, and see if this "explanation" helps you answer any of these questions:
What was done to me?
Which line items were mistakenly overcharged, if any?
Which items were listed (and billed) without having actually been done? (That would be insurance fraud.)  The insurance company wasn't there, so I'm in a much better position to audit.
All in all, did I get a good deal, for my $1,736 out-of-pocket co-pay?  And did my insurance company get a good deal?  Because when my $10,000 deductible is used up this year, they start paying.
You'd think they'd want to be auditing this stuff. I'll call 'em Monday, and see what they have to say. (I wonder if they have the information on which providers have the best costs and quality. That would help both of us.)
The accuracy question isn't just academic; in 2009 I blogged at some length about significant errors in my billing records, such as conditions I never had. I'll be glad to help reduce costs, and clean up my medical record, if the information is taken out from under the blankets.
Any more of you lazy consumers out there wanna sign a pledge to do the same?