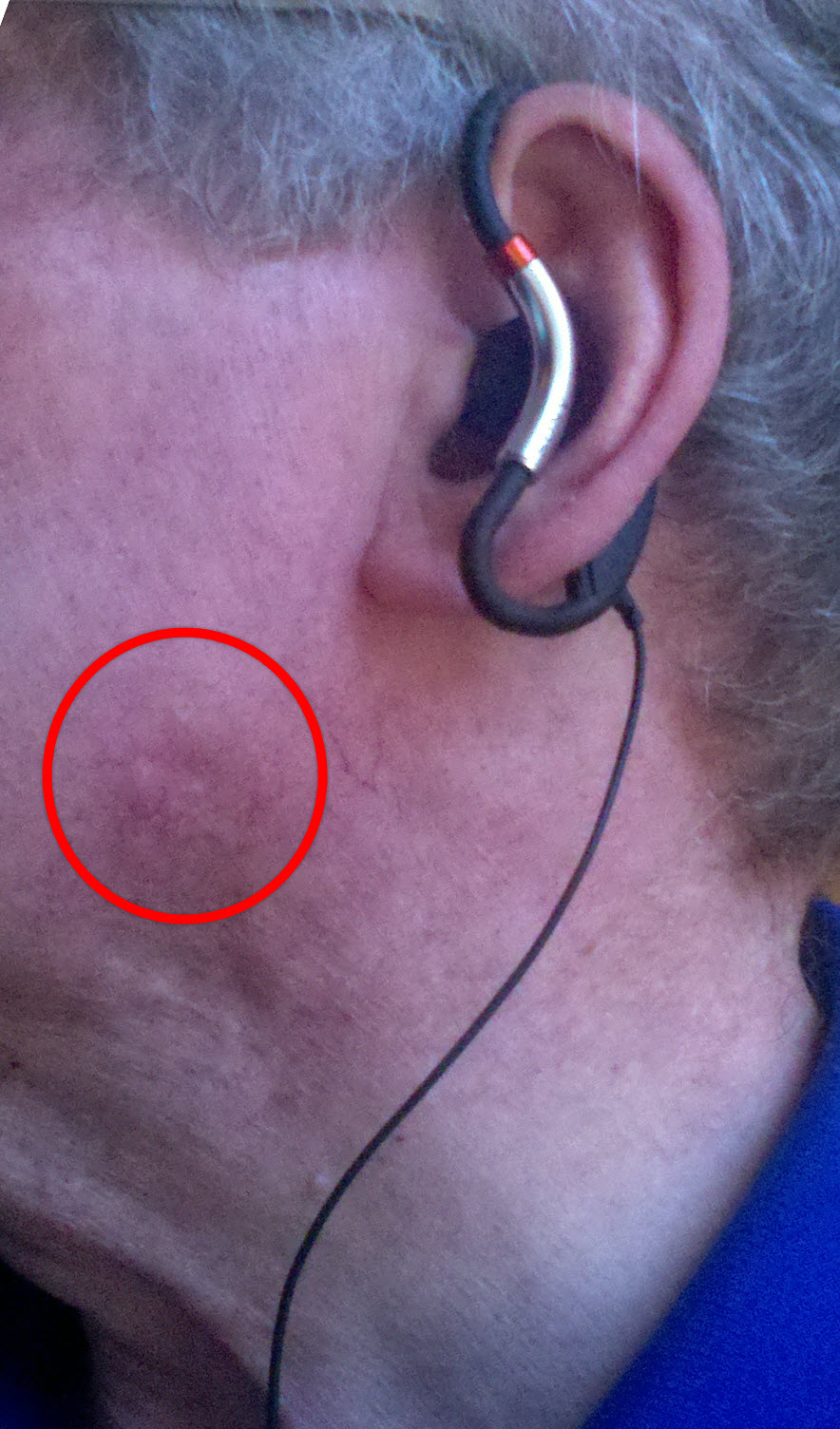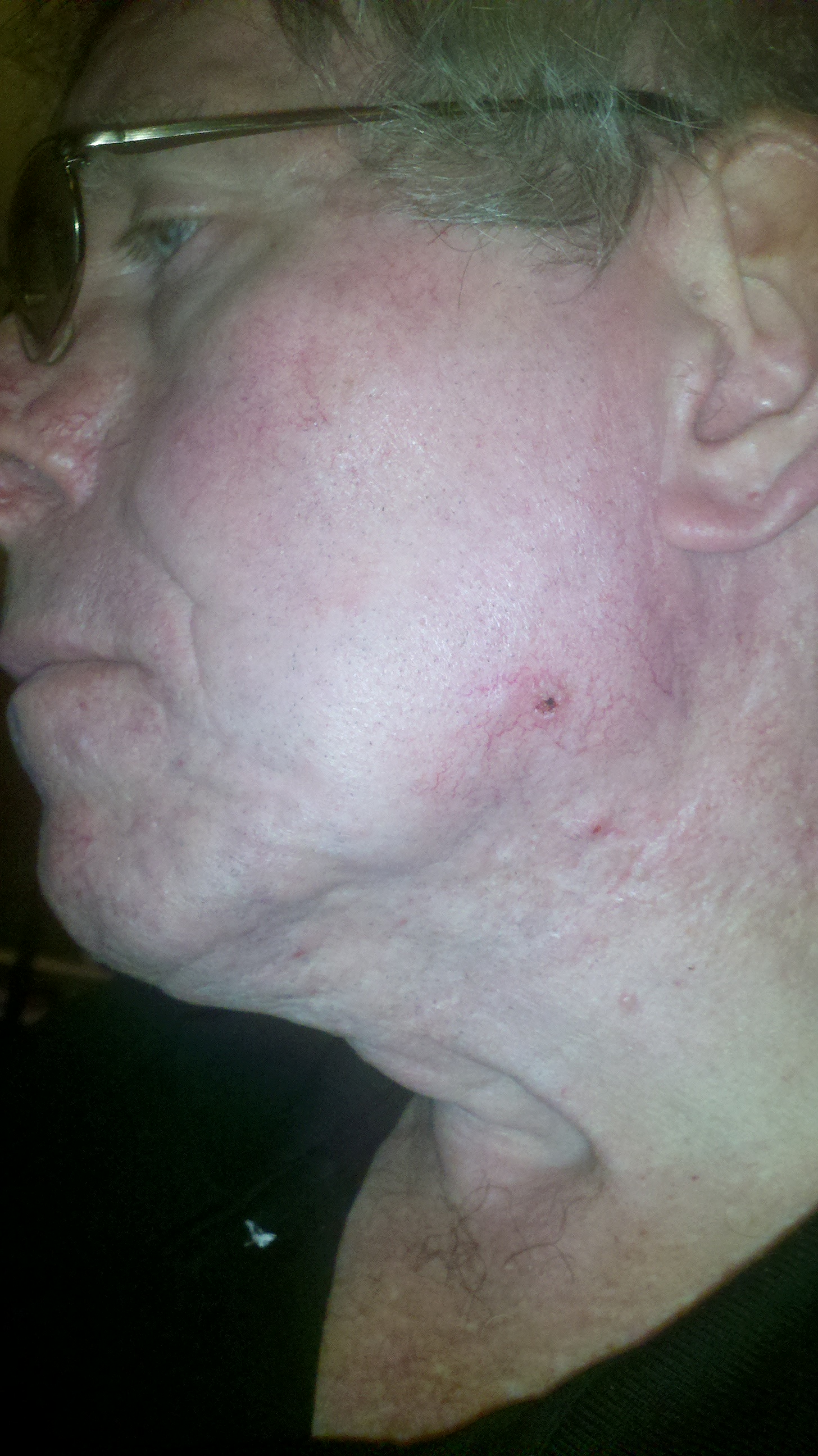 As regular readers know, I have a basal cell carcinoma on my jaw line, and since I have $10,000 deductible insurance and have had really bad experiences trying to get a straight answer on costs, I decided to be very proactive about researching my options. I've decided, and the treatment is today.
I'll have a lot to say later about the process I went through. Long story short, I've decided not to buy Mohs surgery, which everyone seems to agree is the Cadillac treatment; its cost to me, out of pocket, would be several thousand dollars, and the treatment I chose will be under $1,000: ED&C – electrodessication and curettage (Wikipedia). (Under local anesthetic they slice off some tissue, zorch it with the electrozorcher, and repeat until they're satisfied.) (I have a lush technical vocabulary, huh?)
Quick background:
Summary of my research: (Much more detail to come in other posts)
Mohs surgery (1 or more "stages" of cutting off a layer and examining it)

Recurrence (cancer comes back): 1% of cases
1 stage: $3,000 plus or minus 12%
3 stages of Mohs: $6,800 plus or minus 5%
No visible scar. Absolutely the best if you want it invisible e.g. in the middle of your face.
Excision (just cut it off)

Recurrence: 10%
$750-$1500
Stitches; some visible scar.
ED&C

Recurrence: 7.7%
I didn't get a specific price estimate – it won't be more than excision, it's simpler, and its efficacy is

better

comparable.  (I'll let you know when I have the actual cost.)
No stitches – just a "scrape/burn scar." (Honestly I have enough "souvenirs" of my teenage acne that this doesn't bother me in the least.)
The evidence
This is a new doctor for me so I explained my e-patient preferences – I like to understand the options, I ask lots of questions, etc. The office had already been great with me at digging out the cost info I needed. (Every hospital I consulted was helpful, though for all of them it was laborious to dig it out. Hospitals don't have a job estimating / price quote system!)
At my first visit the dermatologist said, "Well, if you're basically self-pay and want to keep costs down, there are other options." He told me about ED&C and I said it sounds good.
L'esprit de l'Escalier strikes
That's the term for the voice that tells you, on the stairs as you leave, what you should have said back at the party. :-)  (Wikipedia) Amusingly, the day after that visit, I smacked my forehead and realized "I was supposed to ask for the evidence on efficacy!"  So I wrote in on their patient portal, and got this response:
J Dermatol Surg Oncol. 1989 Mar;15(3):315-28. For overall recurrence rates — I don't know a study off hand that evaluates recurrence rates by location. "Five-year recurrence rates by treatment modality are as follows:

Mohs micrographic surgery 1.0%
surgical excision 10.1%
curettage and electrodesiccation 7.7%
radiation therapy 8.7%
cryosurgery 7.5%."

Also of value:

Derm Surgery April 2012, 38(4): 585-594. Cost analysis of Mohs surgery
Dermatol Clin vol 29, 2011, pg 153-160. Overview of Mohs surgery, including a discussion of higher recurrence rates in areas of embryonic tissue planes
The first article was all I needed, personally. If costs were the same I'd go Mohs, but they're not – not by a long shot.
Addition, noted in a comment below:
As the procedure started today I discussed this post with the doctor, and he pointed out that the relative numbers among the treatments in that study are not apples to apples: there's selection bias – for worse lesions a doc wouldn't think of using ED&C, etc – Mohs gets all the nastiest ones and still has only 1% recurrence. So, as he said in our original visit, excision really is comparable to ED&C. (I didn't ask for more evidence on that; I was satisfied, and again, it's not like this is brain cancer. Follow-up will be a simple visual inspection from time to time, and again, BCC rarely metastasizes.)
Lots more to say later, but I'll sum it up this way: it was a lot of work to find out what I needed for an informed decision, but ultimately I'm quite satisfied. I feel like I knew the options and I could choose – not some unseen insurance person that I can't talk to.
I'm gonna predict that as information tools evolve – so getting this info isn't such a struggle – more and more people will go high deductible.
2019 update: I'm highlighting this paragraph because, per commenter Bev MD below, this may be one of the important lessons from this story, about consumerism in healthcare.
And, note: if an insurance company had said "You don't deserve the best one (Mohs) – you get the quick/cheap ED&C," it would have felt like the nastiest kind of rationing, but when I make the decision, it feels like freedom.

I guess that's what they mean when they talk about paternalism (where someone else, supposedly more informed, makes decisions for you because you're not mature enough) and nannying (where someone else, supposedly well meaning, makes decisions for you because you're not able or smart enough).
Anyway, it took months and it was hard work, but I really like the result. More later. Bottom line, I'm spending an hour and a few hundred dollars instead of a full day and seven grand.
Okay, time to push the Publish button and go get zorched and scraped!
---
Final cost: $616
As noted in my post a week later, summarizing all the cost options, the ED&C took 15 minutes in the doctor's chair, and the total cost was $616.
That's my cost, and it's the total cost: insurance was not involved because this was way below my $10,000 deductible.
Everyone, please note: I was more than happy to help everyone save money – I just needed the information.  Note too that nobody even offered me a cheaper alternative than Mohs – that valuable and cost-saving information only arose here, on social media.
So let's raise a mug and shout another round of "Go to hell!" to everyone who says "Stay off the internet!" :-) It improved my care and saved us all money … when the healthcare system failed to do both.