I'm sensing a number of things coming together, creating a new view of what's possible and what's changing in healthcare. I want to take a moment to present some background, then share the mind-pop that hit me yesterday while writing something. It clarified my shifting view of the role of the patient in medical research – no small subject!
Background: different views of the role of the patient
As regular readers know, patient engagement got a big boost in April 2011, when I was invited to speak at TEDx Maastricht in Holland. My talk there continues to be in the top half of most viewed TED Talks of all time – an enormous boost to any cause.
Well, it's no accident that it happened there. Organized by my now-friend @LucienEngelen, it was the first in a series of conferences he now calls "the Future of Health," and for him it's all about the patients – so much so that it was the first conference I know of where the first speaker announced (a year in advance) was a patient.
That's an unconventional way to announce a new conference in medicine – and that was two years ago. He's so patient-centered that a year later he announced he'd no longer attend or even accept speaking invitations to conferences that don't actively support patient participation. He announced the Patients Included badge  you see above. In his TEDxMaastricht talk this year he mentioned his parents' deaths from cancer and his thoughts about his own odds. Describing the badge, he cites leaders like Gunther Eysenbach, Denise Silber and Larry Chu whose events do include patients.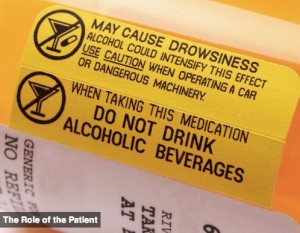 His university's med school mission is "The patient as partner." This touches, massively, on the TEDMED 2013 Great Challenge, Role of the Patient. TEDMED has tended to think of it in terms of whether patients follow orders: the signature graphic for this challenge (right) is a blow-up of warning labels on a pill bottle! Really, TEDMED?? This signifies the role of the patient?
And in the crowdsourced discussion, question 2 was "Is there a conflict between empowering patients and honoring the expertise and authority of medical professionals?" I have bigger possibilities in mind than whether patients heed warnings and honor authority.:-)
Taking it to the world of research
Anyway: this morning over on e-patients.net I posted about Radboud and Engelen's latest initiative at the REshape Innovation Center (Facebook page):
The mission statement of the Radboud University Medical Center in the Netherlands is "The patient as a partner." This month they began launching a suite of three non-profits ("a threefold rocket," they say) where patients and their families and caregivers will come up with research ideas then try to raise the money for selected ideas.
As I worked on that post I became amazed, because I realized it put into words a concern I've been trying to express about PCORI, the new research agency whose work began in earnest this year. (See PCORI posts on e-patients.net.)
PCORI's doing good things, but I realized that when they went through their process in early 2011 of defining their work, they didn't yet have the vigorous, active patient engagement team that they have today. So in hindsight it could be said that "patient centered" was, unintentionally, defined prematurely.
Today their official definition says:
Patient-Centered Outcomes Research (PCOR) helps people and their caregivers communicate and make informed health care decisions, allowing their voices to be heard in assessing the value of health care options.
See that? It's about developing information patients care about, on health care options that are already being developed. That's worthy, but there's no mention of where the options come from – how the research process is directed. It's about a patient-centered view of the outcomes, not about patients defining the objectives of the research.
Said differently:
The old-school approach was "We engineers [researchers] will decide what needs to be developed. We'll let you know what we come up with."

Along the way, researchers led by Jack Wennberg discovered unwarranted variations in how doctors practice, and we began to develop new evidence to support doctors' views and support patients in choosing which treatments they prefer.
Over time, we all discovered that the outcomes that matter to scientists ain't necessarily what matter to the patient and family.

So, PCORI was created, to focus (see definition) on outcomes that do matter to us. The PCORI improvement is that the "engineers" of treatment [researchers and grantors] will solicit opinions from the ultimate stakeholder, as part of their process.
But in this new Dutch approach, patient communities can come up with their own ideas, too, totally unfettered by the establishment.
And that begs a big question:
Who gets to say what's patient-centered?
Before a big PCORI meeting this fall I blogged my current sense of the problem: Who gets to say what's patient-centered? (Hint: the one who's IN the center). But I didn't yet realize where the disconnect arose from, because I wasn't yet immersed enough in PCORI's work to have dug back to that definition. My bad.
Before I go further, two caveats:
I don't speak for all patients – surely there are many who fully agree with PCORI's definition. I'm only talking about my view.
I'm not impugning the people who created the definition – the process was fully open and transparent, and my colleagues and I could have spoken up if (a) we'd realized the importance of the issues (which we didn't yet) and (b) we'd realized the game was underway. But we didn't, and I'm only now seeing why it took so long.
I imagine my friends at PCORI will point out ways that PCORI is indeed soliciting patient input on the research agenda – there was one such call for ideas this fall – but I believe those ideas get fed into the traditional process, and my instincts tell me the Dutch approach has a lot more juice to it in focusing on what patients would want if they could have anything. Time will tell – as always I'm open to discussion.
Anyway:
The Dutch article expresses what I've been unable to:
In my view,
There should be an entire research agenda that's patient-generated, without any process of submitting ideas to a non-patient board. Not everything everyone wants can be done, but efficiency will improve if patients can declare an agenda with nobody's approval. So:
An unfiltered, unfettered list of what patients want is a key component of any forward-thinking planning process. How else can we strive to create the most patient value for our research investment??
As the article says, the patient list is in addition to (not instead of) what the establishment is working on. (It's just a mistake to say that all decisions should be made by well-meaning paternally protective proxies.)
To get the most for our money – and to give patients what they value most – we need to let them say it, from the outset. Anything else can't possibly be as on-target. And that brings us to:
Rethinking who knows what's best
In the Society for Participatory Medicine we say "patients shift from being mere passengers to responsible drivers of their care." In the past we've written about going beyond "compliance," to a vision of a future where patients design and create a safe, decent, patient-centered healthcare system. This takes it to whole different level: imagine patients directing the engineering agenda!
It reminds me of a talk by internet visionary Clay Shirky (Wikipedia) at the very first conference I ever attended, Connected Health 2008: "The patients on ACOR don't need our permission, and they don't need our help." Four years later it's encroaching on science itself.
Let Patients Help
It's no coincidence that this leads back to the closing line of my TED Talk: "Let Patients Help" heal healthcare. One route is to re-optimize the research strategy – someday even the budget – around the ultimate stakeholder: the person and family whose lives are affected. And what I see in this initiative is a new pathway to allow organic growth of new research projects, in a new space, in addition to current methods.