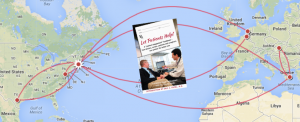 Let Patients Help is a successful book, but in the early days of its movement, it was common to hear skeptics say "This is only in America." Boy was that wrong.
The first massive proof was TEDx Maastricht, the seminal event constructed by Lucien Engelen from Radboud UMC (university medical center) in the Dutch town of Nijmegen. It was such a big deal – the first conference I know of anywhere that was totally focused around patients … so many patients that a blogger Grand Rounds was devoted to videos of the talks patients gave at that event.
It was the first time anyone heard the chant "Let Patients Help" in a TED Talk, and the response has been enormous: almost a half million views so far on TED.com. TED says there's usually the same number on other sites, so that means almost a million views. Volunteers have added subtitles created in 26 languages, so I'd say it's not "only in America."
This fall, Europe goes "e," big-time, with four events in one month.
In November four events in four European customers will focus on Let Patients Help, all driven by visionaries who are seriously working on patient engagement – in Athens, Budapest, Amsterdam and Brussels.

Friday-Saturday, Nov. 8-9, Athens, Greece: Patients In Power conference (Twitter @PiPGr and #PiPGr), organized and produced by amazing Greek advocate Kathi Apostolidis. Kathi is a force of nature, and I mean a force that can overcome the worst of circumstances. (The Greek economy is a disaster, and so is it healthcare system, but she's an unstoppable stand for better care for all.)

Friday will be a day long conference, followed on Saturday by another e-Patient Boot Camp.
On the site's home page look at the incredible list of sponsors she's assembled – and this is in her spare time while spending much time in Brussels as vice president of ECPC, the European Cancer Patients Coalition.
See also her mention of the Patients Included badge, which Lucien created.
Kathi has a Greek translation of Let Patients Help in process.

Because Kathi arranged support for the Athens trip, I'm able to do another event on Tuesday, Nov. 5, in Budapest: Bertalan Mesko's Social Media in Healthcare course at Semelweiss University. Open to the public.

Since his early 20's "Berci" has been a pioneer and real visionary about social media in medicine. See his site Webicina – a curated list of resources for e-patients and their providers. (Disclosure: I'm a Webicina advisor.)
Berci has produced a Hungarian translation of Let Patients Help, which may be available in e-book format.

Friday, Nov. 22, Amsterdam: a private client event in the business community.

The client has produced a custom edition of Let Patients Help, with a special prologue.

Monday, Nov. 25, Brussels: Are We Ready for Patient and Family Empowerment? is the Belgian government's 7th Symposium on Quality and Patient Safety. Open to the public (register here) but seats are limited.

Kudos to Twitter friend Kris Vanhaecht for the connections to enable this participation. We knew each other online; this summer we met up at Harvard Square when he was in town, and one thing led to another.
Belgium is one of the most advanced governments in the world in their thinking on patient engagement. They showed me a PowerPoint of their initiatives – I hope they'll let me publish it.
Lucien Engelen has a Dutch translation of the book. (I don't know if it's available for purchase yet.)
For Belgium's other language there's no French translation yet.
As the map at top shows, in between I have events in San Antonio (a private corporate event) and then in Washington the opening keynote at the AMIA annual conference (American Medical Informatics Association, my health IT geek brethren and "sistern.")
Six cities in five countries, in five languages. (Brussels is French and Dutch.) I'd say this movement is not "only in America." Let Patients Help is truly a worldwide movement, and I love the vision and commitment of the people organizing these events.
Thank you to these visionaries. Readers, if your government or organization wants an event or a custom edition of the book, see the contact page. I require funding (I have no day job and no foundation support), but obviously I'm willing to travel, and as an evangelist I'm happy to train your advocates too.