In three weeks at the Mayo Clinic, as their invited Visiting Professor in Internal Medicine, I'll be delivering the most fascinating talk of my career. I'll be formally starting the process of examining whether we must all agree that there's a hole in the dominant paradigm of how medicine works, and whether we must solve this together by creating a new, scientific approach to patient engagement.
To start, please watch the four minute video below. For convenience, and to make it more searchable, at bottom of this post is a transcript.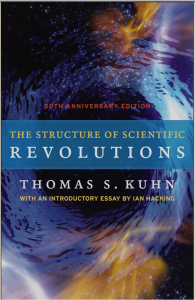 To do this I'll be using the 1962 book that brought the word "paradigm" into popular use: The Structure of Scientific Revolutions, by Thomas Kuhn. His definition of paradigm was much more strict and rigorous than the trendy loose word we throw around today; he studied numerous scientific revolutions (Newton, Copernicus, etc) and identified a regular, repeated structure to the process by which a scientific field takes form and then, sometimes, realizes a revolution is needed.
The process is both scientific and sociological – a fact that annoyed the crap out of scientists who believed that they are solely logical. From Wikipedia:

Kuhn's insistence that a paradigm shift was a mélange of sociology, enthusiasm and scientific promise, but not a logically determinate procedure, caused an uproar in reaction to his work.
In the days between now and Mayo I'll post several items that I hope will be helpful both to people who are students of medicine and to ordinary folks, so we can have a common basis for discussion. If this initiative succeeds, the process will take years, as it always does. (Kuhn says some revolutions take a century.)
My goal is not to be in a hurry, it's to get it right – to have science move forward methodically in its thinking. Maybe we need a new science – a new way of understanding what needs to be measured and optimized – or maybe we don't. I just ask that we examine the evidence together.
Here's an index of the posts in the series:
#1: Proposing a new science of patient engagement (this post)
#2: The stages of a scientific field
#3: The role of unexplained observations
#4: "The unfolding science of patient engagement": foreword in a new book
Below is the transcript of the four minute video above.
_______________
This is something that's been coming for years, I think – there are a lot of people who've been saying since the last century, since the late 20th century, that patients are more able to contribute now to medicine than in the past. And it's taken a long time for us to figure out what's actually going on here, given that a patient like me has no medical training at all.
It turns out that the real question is, who is capable of bringing value to a medical situation? There's always health maintenance, of course, where only the patient takes care of themselves. But when trouble hits, how can it be that people without medical training can add to the knowledge that physicians have, with all their training?
I don't take this lightly… I'm not somebody who says "Oo, let's all think lovely thoughts about patients and the world will get better." I'm functional, I have an engineering mind – I want to know what's happening. So I've been advocating, since some colleagues, including my PCP, formed the Society for Participatory Medicine – their

symbol is a handshake – in 2009, I've made a career literally out of speaking on what's happening, what's changing, in medicine.
A number of important precedents… in 2012 I gave a talk to a Medical Library Association chapter here at Mayo, and Dr Jeff Reznick of the National Library of Medicine told me that they now are capturing several patient blogs into the History of Medicine division at the NLM. The Institute of Medicine in 2012 said that the future of healthcare … requires "patient/clinician partnerships." And they specifically said "Empowered, engaged patients."
Anyway, after years of doing this, all of a sudden a couple of months ago I got an email that pretty much knocked me out of my seat – where the Chiefs [chief residents] invited me to be Visiting Professor in Internal Medicine.
Of course, me being me… evangelists don't stop at an offer like that – I immediately said, "Okay, good – let's up the ante – I'd like to talk about what's actually changing in medicine – sit down with you folks and really pull it apart – because I actually think – there's a famous book, The Structure of Scientific Revolutions, first published in 1962, where he talks about, looks at the history of various sciences. Every science develops a paradigm; until there's a paradigm there is no science, really, because you don't have a shared view of how things work, that you can research.
Then there comes a time in every science, sooner or later, where you get a bunch of what he calls "anomalies" that force you to say, "How could this be happening if the world works the way we think it does??"
And that leads to crisis, and leads to an evolution of the science. I think that's what we have in medicine – we have numerous cases now, where activated, thinking patients bring information to the table that improves outcomes.
So I responded by inviting the chiefs to have a multi-month dialog about this. Because I think we're in a position to propose a new science of patient engagement.