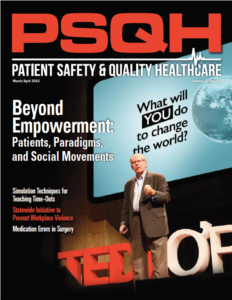 It's time to move beyond empowerment and engagement, and get to the deeper issues.
For 18 months it's been increasingly clear that the nature of this work – at least mine – has moved beyond surviving cancer (though that's great), beyond "Gimme my DaM data" (though that's true). It's time to examine the core beliefs that hold medicine back from achieving its potential – its mistaken conceptions about what patients can do and should be supported in doing.
So when Susan Carr, editor of the excellent Patient Safety & Quality Healthcare, asked last summer if we should do another piece, I proposed that we pick up where I left off in 2015 as Mayo's Visiting Professor: let's examine whether it's time to formally examine "the paradigm of patient"; to rigorously ask whether establishment medicine's conception of what "patient" means – especially what patients are capable of, and should be empowered to achieve – needs to be updated. If we get that wrong, then business and science and policy can't possibly get it right.
The resulting interview is here – they made it their cover story! You can jump to that link, but if you have a moment, I'd like to say more about its background, and why this is important.
Problems in a paradigm are not to be taken lightly.
The guy who wrote the book (literally) that made paradigms popular was Thomas Kuhn; the book, in 1962, was The Structure of Scientific Revolutions, which I've discussed here several times and mentioned in my second BMJ essay (last year). In short, when evidence accumulates that a science's dominant belief is no longer sufficient, it's time for change, and that can cause a revolution.
And I assert that anyone who believes patients should do as they're told ("compliance") and stay off the internet (like those famous "Don't Google it" ads) is in violation of the evidence that today, engaged, empowered patients are contributing real value. In fact, in preparing to be Visiting Professor in Internal Medicine at Mayo last year, I asked (video): is it not time for us to create a formal science of patient engagement? They accepted the idea, and it became the subject of my Grand Rounds.
But indicting a paradigm is not to be taken lightly, because the cultural foundation of a science is threatened when you assert that the field is wrong about something fundamental: you get all kinds of resistance that's social, not based in evidence.
And that, ladies and gentlemen, turns the progress of science into a social movement. So in January I posted Patient Engagement and Empowerment: A Culture War Begins, then Fighting for social change: on Martin Luther King day, meet Marshall Ganz.
Note: social change is not rational; it does not happen based just on evidence. That's why the core question in my evangelism has always been: "What can be said that will make any difference?" I'm an activist – I want change, in my lifetime – and activists get a hunger for what works.
It's time.
This isn't new to science, nor even to this blog: five years ago(!) I quoted Max Planck, the 1918 Nobel winning physicist:
"A new scientific truth does not triumph by convincing its opponents and making them see the light, but rather because its opponents eventually die, and a new generation grows up that is familiar with it."
~ Max Planck
See what you think about the interview. The magazine site doesn't have a comments feature, so please – discuss here. Believe me, this stuff is debatable!
---
About the magazine's cover photo: it was taken at TEDxOPorto, in Porto, Portugal, in 2012. Video of that talk, featuring patient voices Hugo Campos, Kelly Young, Regina Holliday and René Tabak, is here … I was exhausted from a redeye the night before – but the theme of this TEDx was "Going the Extra Mile." (I've lost 35 pounds since then…)