Some moments stick in your memory in vivid, multi-sensory recall. This blog post is dated ten years after such a moment.
Today I can still see the clock digits on my Sony desk phone when it rang at precisely 9:00 a.m. It was my primary care physician, Dr. Danny Sands. I'd had my annual physical on 12/29, and as a follow-up for a stiff shoulder, on January 2 I'd had an x-ray from one of the Boston Red Sox team physicians.
Patients around the world have told me they can relate to what happened when I answered the phone: what Dr. Sands said changed my life in an instant.
Dave, your shoulder's going to be fine – it's just a rotator cuff problem. But there's something in your lung, and we need to find out what it is.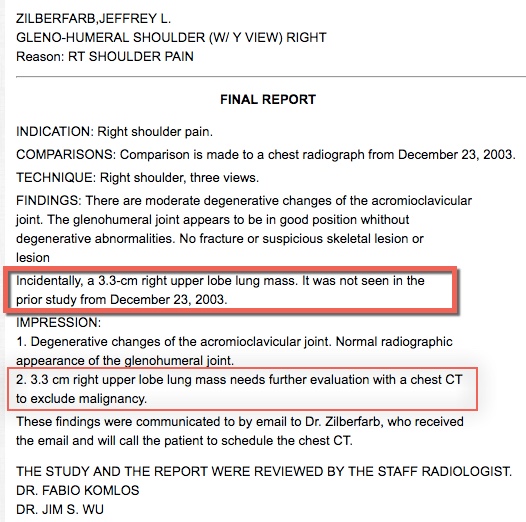 Today I know, through access to some of my medical record (right), that the radiology report about my shoulder included an "incidental finding": something else showed up that they weren't looking for – a 1.3″ mass, right near that shoulder.
Now we know that, by pure luck, a metastatic tumor from my kidney cancer had popped up in that shoulder x-ray. (So much of medicine, even great medicine, is uncertain.) But at the time we didn't know what it was: "It could be a fungal infection," Dr. Sands said, "or a scar from some old infection, or something else, but we need to find out." He'd ordered a CT scan, and he gave me the number to call to schedule it.
I would soon learn that I had many tumors all through my body, and that they were kidney cancer, and my outlook was bleak.
---
Having told this story hundreds of times, I usually get through it without emotion. But honestly, this ten year anniversary is bringing me right back to those moments when the diagnosis emerged, with full emotions: thoughts of leaving my family behind, an end to my future, to my life story – it was terrifying and sad. It scared the crap out of me to realize I was probably dying: like being in a head-on car crash, in slow motion. I find myself with tears in my eyes as I recall it.
Obviously, we beat it. I depended on getting the best care possible, from the best doctors I could find (happily also at Beth Israel Deaconess), and you can believe I did everything in my power to help them save me.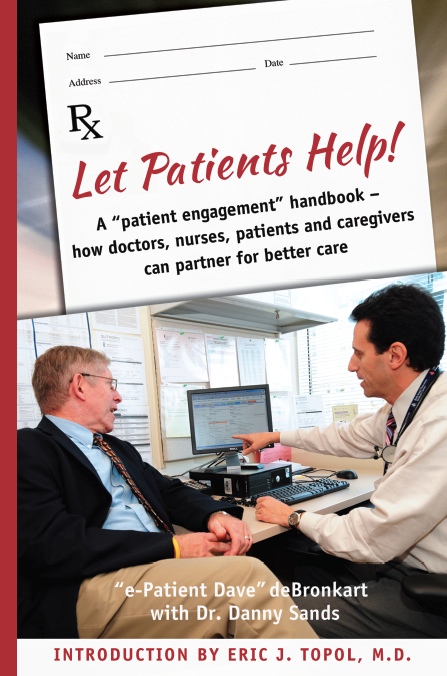 Ten years later it's clearer than ever that if we want medicine to achieve its potential, we must make the best use we can of that now-common phrase, "the most under-used resource in healthcare: the patient."
It's another senior physician at Beth Israel Deaconess, Dr. Warner Slack, who coined that phrase. He's been saying it since the 1970s. And, happily, he was one of Dr. Sands' mentors.
Here's to achieving the best possible outcomes. Here's to great medicine, to thought leaders, to great care, and to letting patients help.