Deadline Friday, May 22: See timeline below, learn more on the track page, then submit your application. Prizes, fame, community!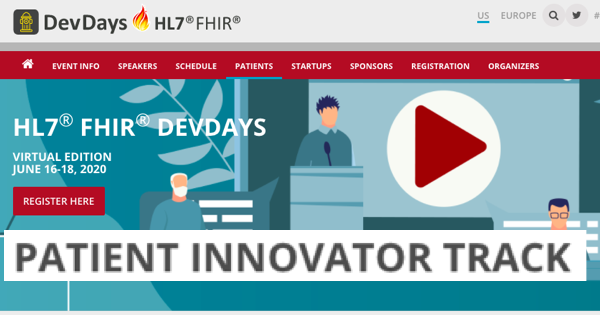 Summary of timeline:
Now through Friday, May 22: Fill out the form to submit your idea

Submit any good idea, even if you think you won't win! Everything interesting will get posted on my site. We're starting a movement!

Wednesday, May 27: The four finalists will be announced. They get free admission to DevDays virtual – a $700 value
Monday, June 8, 5 pm US Pacific Time: Deadline for submission of video pitches
Monday-Thursday, June 15-18: Submission pitches are played at DevDays Virtual.
Thursday afternoon, June 18:

Afternoon: Judges vote for the main award; the audience votes for People's Choice award.
Closing session: Prizes are awarded.
---
What would you do with access to your data?
I am so in love with this. It's the next step after November's news about the first edition of FHIR's Patient Innovator Track … the only such track I know of at any IT conference in the world. YAY! Here are the opening words of this competition's web page:
"What if technically minded patients had access to their data from hospitals, labs, and apps? What if they could collect the data themselves and massage and format it however they like?"
The full announcement is here including how to apply for the Patient Innovator competition. Four finalists will record ten minute video pitches to be played to the judges. They'll also be given an all-access pass to DevDays Virtual (a $700 value), and will also compete for the People's Choice award as audience favorite!
---
Regular readers know that for almost two years I've been blogging about HL7® FHIR®, the free, non-commercial, open-source software standard that's been in development for 6-7 years and which is finally emerging. As I've said, FHIR itself isn't a thing you would buy; it's a free, open-source ANSI standard – it's more like the HTTP that drives every website. FHIR is a software standard that's starting to make it feasible to get our health data.
Plus, as of March 9, Federal regulations in the US require that medical records systems make patient data available through APIs using FHIR. So this is really the future of patient data access.
DevDays is a semi-annual conference for health data programmers working with FHIR: creating FHIR workflows, growing the standard, etc. The Patient Innovator Track recognizes that it's time for patient innovators to be a recognized part of the community.
HL7's vision is "A world in which everyone can securely access and use the right health data when and where they need it." They're making it real; last summer I blogged "HL7 makes it official: FHIR exists to serve patient needs." Continuing from the event page:
The Patient Innovator Track provides a stage to patients and family caregivers who are taking control of their health using data about their disease and their treatment. We invite patients to show the unimagined things people can do with data when their health is at stake. The goal of the track is to inspire the DevDays audience and to share the values that underpin FHIR.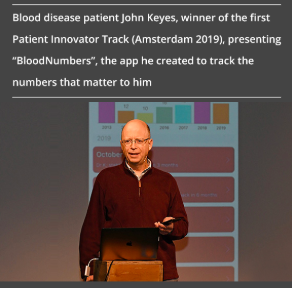 US DevDays 2020 is June 15-18. FHIR DevDays happens every November in Amsterdam and June in the US. This will be the first Patient Innovator Track in the US.
To apply, your achievement doesn't have to use FHIR – just health data.
It's significant that to participate in this, you don't have to be using FHIR; you just have to be doing something useful with health data. Read about what was done by the Amsterdam winner, John Keyes (right), one of the four finalists who were brought to Amsterdam last fall. Note in the photo caption: "to track the numbers that matter to him." Truly patient centered design, because he did with the data what he found valuable.
Spread the word – and apply, if it's for you!
And if you're a developer who's excited by this important shift, here's the link to register for DevDays as a regular attendee.