Two months ago I blogged about virus data, and noted that a "natural experiment" was happening in Scandinavia, where Sweden was trying a strategy of herd immunity. It appears to be a complete failure.
The idea was that herd immunity would cause the number of new COVID-19 cases to decline, without the shutdown policies and economic impact adopted by its Scandinavian neighbors. But the rate of new cases in Sweden hasn't declined, while its neighbors' all have: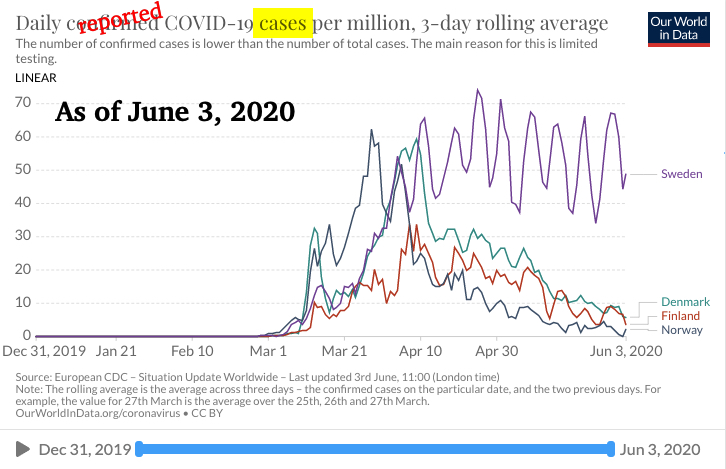 I blogged May 4 about the herd immunity strategy and how it tends to be a disaster if you don't have a vaccine. The idea is that you let a disease run through a "herd" (animals or people) and eventually enough die or become immune that those who remain don't transmit the disease much.
The chief Swedish epidemiologist said in April that he expected Sweden to get there in May. Here's a summary of headlines since then:
But that same day, Swedish friend Peter Carstedt said on FB, "His position remains that Sweden has not chosen the wrong strategy, but that there are lessons to be learnt" – nobody knew that nursing homes would be so contagious, they should have tested there more aggressively, etc. So it'll be interesting to see in a few weeks if this realization produces improvement.
Surprisingly, a couple of days later a big spike in case count arose: Swedish friend Maria Hägglund says a big private lab had forgotten to report its results to the government(!!). So there had actually been thousands more cases than reported, which all got shoved into the reports at once. So as of today the graph at top looks like this – oy:
Then yesterday, the ultimate happened, which may sound familiar to Americans: Sweden to drop daily coronavirus briefings (Fortune). (They'll report twice a week, not daily.)
---
By the way: this data isn't granular enough.
It seems likely that for a long time (years?) we'll have rolling outbreaks (as we're seeing today in Texas and Arizona), and as life tries to return to the new normal, we'll need to learn to dodge them. How?
I still worry that numbers like the above – reported cases and deaths for a whole country – are not granular enough (not detailed enough) for us as individuals to make decisions on our situations. I long for a breakdown of any country or state's data into three categories:
Problem areas where cases are raging (as was the case in NY, Milan, London, Madrid … but never yet in Chicago, Copenhagen, etc)
Specific hotspots, particularly densely packed places like nursing homes, prisons, whatever they might be at any moment.
Everywhere else.
I say this because almost all of us live in "everywhere else," which I suspect is a large part of why so many Americans won't wear masks because they think there's no problem, even as the US continues to have 25,000 new deaths a month. (Actually, 33,000 in the 31 days since May 11, but that may decline. Time will tell.)
There will be real, varying danger as outbreaks pop up like wildfires in different places, which may require re-lockdowns in place after place. But if we can figure out where lockdowns really aren't solving much because case load is low – the "everywhere else" locales – perhaps we can get by with a semi-normal life using masks and sanitizer and distancing … at the cost of some sickness and death, which will surely continue in any case until vaccines and treatments come along.
To do that, we can't settle for whole-country or whole-state numbers. We need to identify and isolate problems, to understand what "everywhere else" looks like too.
(Or, Americans could grow up and decide to follow mandates that benefit others, not just their selfish selves, as New Zealand did, to reach their current level of zero cases. They eliminated the virus. By obeying science-based rules.)
---
This is why I trust good science.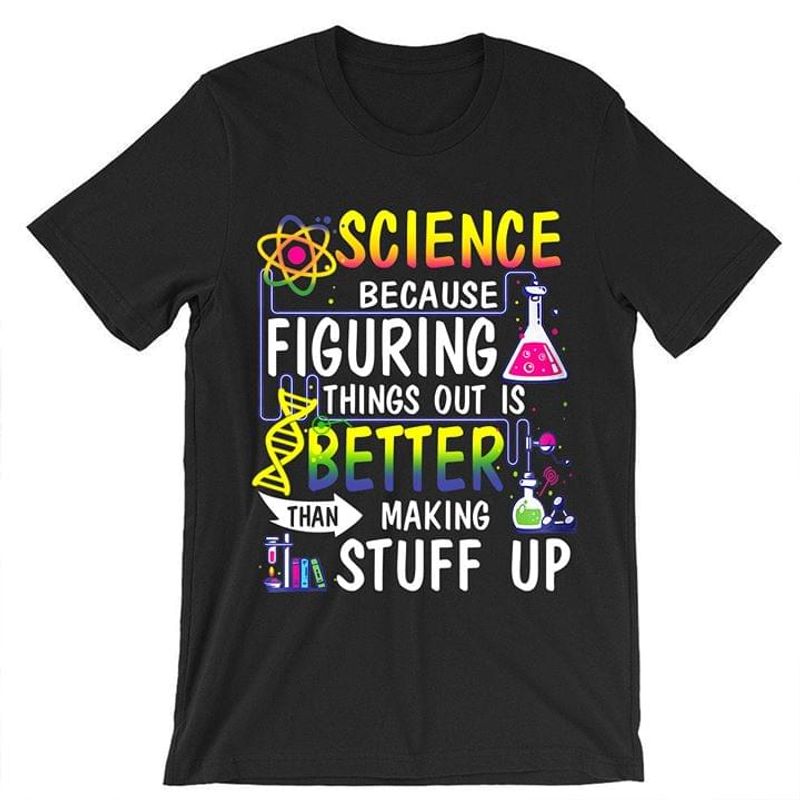 Speaking of science – this is all a damn good example of why it's useful. It's hard to get science right, and it has to be constantly re-examined and upgraded, but it's just … useful for anticipating what approach might work. Or not work. And why: you gotta figure out the method, the why things happen or don't. Without that it's not science. And you end up asking "How was I supposed to know this would happen???" As you die, maybe.
When you meet someone who thinks science is BS, please point out gently (so they can hear it) that Arizona was one of the first states to reopen (May 15), and now four weeks later their cases are surging:
That's from ABC News today, A pre-pandemic attitude toward social distancing may have led to the rebound. Who could ever have anticipated that?? I mean, the virus was in New York, and that's so far away!
Well, it's exactly parallel to what happened three months ago when the rest of Scandinavia locked down and Sweden didn't: three weeks later they diverged. From an earlier post: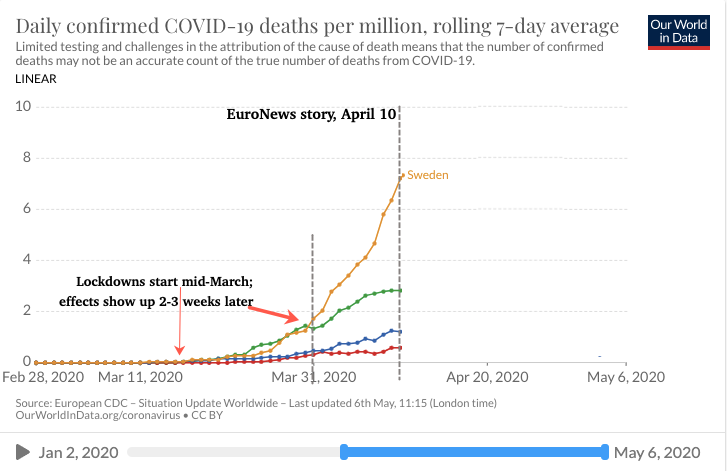 The attitude "we hardly have any cases around here, so we're good" is exactly as bright as teens who say "We haven't gotten pregnant yet, so I guess we don't need rubbers anymore." Both examples show a lack of understanding – a lack of scientific thinking.
A lot in life is uncertain but some things are predictable.
---
What can you do? Remember these recent posts:
And from that re-opening post:
Use your head. Heed the science.
Avoid contact, especially with irresponsible people.

Update: Particularly avoid prolonged, close contact.

Wear face coverings. Remember, it's not just for you – it prevents spread [see the "universal masking" graphic below], and right now you don't know whether you're a symptomless carrier. (Wearing one sets an example for others, too.)
Wash your damn hands when you come home or after touching stuff. It works! Stupid little soap bubbles deactivate the invisible virus!
Be prepared to walk away from dangerous places and things.
Here's that great graphic on masks, as a reminder.