For the past year I've mentioned this in speeches, but I've never written about it here:
In November 2014, a routine blood test revealed that my hemoglobin A1C was slightly elevated, making me what they call "pre-diabetic." (See lab results below.)
Well, that got my attention.
Why? Because, through social media, I know a lot of really smart, articulate, passionate members of "the DOC" – the diabetes online
community – and I've learned all kinds of things about the reality of diabetes that you don't see in the TV commercials.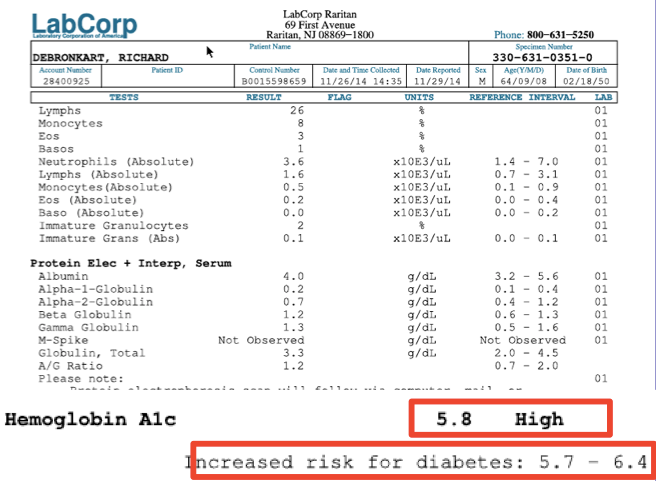 I've learned that it's not rare for a basically "healthy" person with diabetes (PWD) to die in their sleep when their blood sugar crashes; I've learned about unfixable nerve pain and amputations; I've learned about all kinds of things that can go wrong when diabetes gets out of control. I don't even know enough to make a properly prioritized list, but I know enough to say you do not want to have diabetes if you can avoid it.
(Footnote: it drives many of us nuts when a TV commercial or news story talks about "diabetes" as if it were one thing. It's not. Type 1 diabetes (T1D) is medically different from type 2 diabetes (T2D), which I am at risk for; it typically arises in middle age, but has been seen as young as age 3. "Diabetes prevention" is an ignorant thing to say: Type 1 can't be prevented, Type 2 sometimes can. But that's a rant for another day.)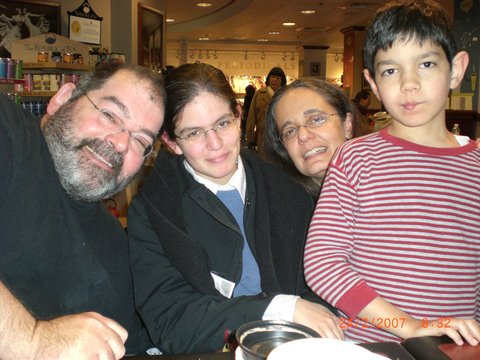 Oh, and remember when my best friend Dorron died, in his fifties? One of his conditions was diabetes.
So even though 5.8 is not a crisis-level reading yet, I was all, like, whoa, this gets my attention. Steer clear of T2.
So that January I got into the YMCA's "DPP" (diabetes prevention program), and my wife and I took it on. We both became more active and significantly improved our diet. Started using MyFitnessPal; she got a kitchen scale; we started tracking our activity, and using the Y's gym. She lost 20 pounds and I lost 30. (For her it was an extra help when she got both knees replaced on the same day … after that surgery it's really good to have less weight to lift and carry!)
So anyway we're both healthier, but one is never completely out of the woods about this. And, somehow, people from the diabetes world have started asking my thoughts on the subject.
When PLAID Journal editor Martin Wood approached me, I said he'd have to guide the process. We were both happy with the result (it was a collaboration), but the last thing I expected was that they'd make it their cover story.
The title – "the patient's perspective" – comes from the Institute of Medicine's 2012 report Best Care at Lower Cost, which I often quote, because so few people in medicine have heard of it(!).  It says "The learning health system is anchored on patient needs and perspectives." Hear that? The patient's perspective – the patient's way of looking at things.
I was hesitant to contribute because I've never lived with diabetes, but that's the editor's problem. :-) I hope the article will be a contribution to the community. Here's a link to my article, but I encourage you to look at the whole issue (it's free) and get a broader perspective of the diabetes world.
And hey, DOC people – what blogs etc should people know about??  One thing I've learned is that a lot of people with diabetes have no idea that the DOC exists – so many feel alone!
p.s.  Last November the amazing and wonderful Kerry Sparling asked me to write about it on her blog SixUntilMe. (She was 7 when she was diagnosed with T1.) That post is here.