Dear Dr. Halamka,
I want to download all my data from my 14 years as a patient at Beth Israel Deaconess Medical Center. What button should I push?
In June you said on your blog (left, top) and on MedCity News that no patient has ever asked for that, but your tech support says you don't have a way to do it (see red outline).
Tech Support said I should call Medical Records. I did, and they said they can't deliver things electronically. So where is the link you say nobody has ever used?

---
As you recently told MedCity News, we've been friends for years. Through your blog I've long known the excellence of your BMI, your kayaking skills (including rescues), your knowledge of mushrooms, your Unity Farm; in return, all I've been able to teach you is how to use Uber when we visited London together in April, on Bob Wachter's team advising the NHS England. You are a remarkable human being in many ways.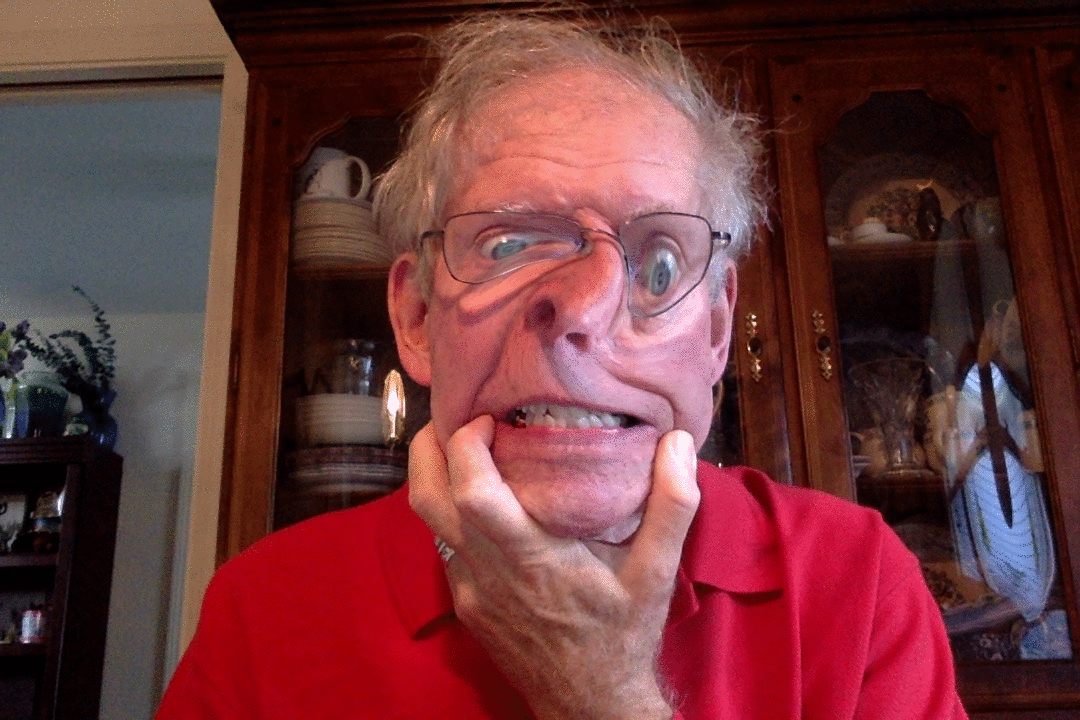 But professionally, you're driving me crazy. After I tried to help someone download all my data, I created this GIF. People on Facebook thought it was funny.
Stop saying patients don't want this. ENABLE it.
It feels like you keep dissing patients who want to be actively involved in their care, and it feels like you're actively standing in the way of data sharing. Look how you started that June post above, re VDT ("patients must be able to View/Download/Transmit their data"). As I said in my MedCity ENGAGE speech last month, you slander activated patients:
"Viewing is great – we've done that at BIDMC since 1999 for all patients and all data."

Um, no. There's lots of information in your computers I still can't see (e.g. my 2007 in-patient records), and until OpenNotes I couldn't even view my visit notes. Do you not consider those part of "all my data"?  I do.

"Download makes little sense since at the moment there is nothing a patient can do with a download."

As I said in that speech, this is a "chicken-and-egg error": instead of kindling this, to create the new ecosystem we want, you stand motionless and say "See? Nothing's happening." There are numerous companies who want to absorb your data (see below), but you offer no way to do it. Don't blame them for that!
It's exactly the argument we used in the typesetting industry 30 years ago when desktop publishing was starting to eat our lunch. You know what we learned? We learned that to innovators, data is fuel. I even said that in a 2010 speech (video) to AHRQ's IT grantees and contractors.
Lesson: It's perverse to starve innovators and then say they haven't produced anything. Perverse. In desktop publishing, when consumers got their hands on the data and could share it with innovators, then innovation went wildfire. That's what we want in healthcare. Don't say there's no point starting because nobody's started.

"Of the 2 million patients at BIDMC, not one has ever requested a download."

I don't have access to Putin or Wikileaks so I can't know what's in your emails, but: see the screen captures above. How can you say this with a straight face? Do you know you don't offer a way to request a download?
Again, I'll say it's perverse to not offer something and then broadcast that nobody has used it. Stop dissing my people!

"Transmit makes even less sense since there is no place to transmit the data to."

Another chicken-and-egg violation, just like #2 above. Those companies I mention want to offer transmit, too. But they can't develop it because you're not sending it!
Several of them have come to me asking for help in figuring out how to get my data out of PatientSite. Epic, Cerner and others are more cooperative than you, John; would you like me to connect you with them?
I recorded a screenshare demo for them, walking through every bit of PatientSite … I told them I don't mind if they see my intimate details, because I'm a health data nudist: I don't care who sees what, if it helps the cause of patient power. As they watched, they kept shaking their heads at the hurdles everywhere, and it kinda made my head spin, too – the first time I walked someone through it, I created that GIF above. (I can share the walkthrough video if you'd like.)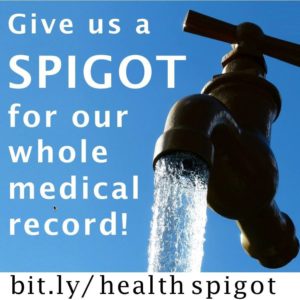 Know what we want, John? We want a health data spigot: hook up the pipes and let 'er flow! That's why this is my profile picture on Twitter and Facebook and it's on the GetMyHealthData site. (Click it.) Can you do that for us?
This isn't the first time we've been through this.
Back in 2009 we both ended up on the front page of the Globe after you said in 2008 you had an interface for us patients to send our data to Google Health. When I tried to use it, we discovered that you didn't send Google my medical record, you sent my insurance billing history, which was full of madness: it said I had an aortic aneurysm, metastases to the brain, non-rheumatoid bitricuspid valve disease, and more.
All that garbage is in my insurance billing historybecause of various common billing practices that insiders tell me are either questionable or outright corrupt: upcoding, billing codes with no evidence (e.g. "bone & cartilage disease" when my tongue metastasis was examined), and perhaps some outright fraud (e.g. that valve disease dx on a visit to treat my femur metastasis(?!?)). I imagine a CIO can't fix that, but you certainly could have known "This data is crap – we can't send that to Google!"
(Have you read Wachter's book The Digital Doctor?  It has a great term for claims data: "this waste product of administrative functions.")
It's ironic that Google Health took the hit for it and they're the ones who ultimately shut down from the bad publicity. They were even blamed on the Information Quality Trainwrecks blog, when the problem was the data you sent them.
What really gripes me is that when this hit the newspapers (4/13/2009), you blamed it on patient naïveté: as I'm sure you remember, after our concall your first draft of a response said "We now understand that claims data can be confusing to patients." When I read that to my wife, she said "That's insulting! The data they sent Google isn't confusing, it's wrong!"
Let patients help create the future, John.
Your words in that June post are a little bit like saying in 1994, "Who needs a web browser?? Nobody has ever tried to access a web page."
Help create the future, John.  Or at least stop saying nobody wants it. Give me a health data spigot, to actually get all my data out. For all patients, all data – "like it's 1999." We'll quickly demonstrate who wants what.
==========
Rest of this short series: (added 5/31/17)
That was the end of that: he hasn't replied since. I'd love to continue the conversation. But for it to start honestly, you have to retract your assertion (see screen capture at top) that no patient has ever tried to use that button("Of the 2 million patients at BIDMC, not one has ever requested a download") that you don't offer.