Let us start by reviewing our anthem: "Gimme My DaM Data – it's all about me so it's mine," by the magnificent Ross Martin MD and his wife Kym, multi-cancer patient whose care has been affected by lack of access to her health data. "DaM" is Data About Me, Kym's more-polite version of my cussing. Read on for why this is newly urgent.
As regular readers know, I've been having an exchange of posts (and emails) with Dr. John Halamka, the Chief Information Officer of my hospital, Beth Israel Deaconess Medical Center (BIDMC), which wonderfully saved my life in 2007.
John and I differ profoundly in our opinions about whether patients should have the ability to download every bit of their medical record, including the ability to take it wherever we please and share it with other hospitals and apps. If Kym had had this ability years ago, her care would have been better informed.
Differences of opinion are okay, but the latest is that he's pretty much refusing to answer my concerns, instead putting up an almost Trump-like diversionary wall, changing the subject and not answering the question.
John, my concern here is not for myself – I'm healthy right now. My concern is for patients and families (like Kym, not long ago) who have active problems right now and whose ability to get the best possible care is impeded by your beliefs and policies. On what moral grounds do you deny them access?
I'll start with a brief recap, for newcomers, then give my objections to your latest non-answer, and repeat my questions – actually, I'm ready to call it non-negotiable demands.
Brief recap (let's call it "history of present illness"):
June 2016: John blogged that "not one [patient] has ever requested a download" [at BIDMC] and cross-posted a version on MedCity News.

Several friends on social media who know PatientSite (BIDMC's patient portal), wrote privately to me saying this made their blood boil because it was so disingenuous. Read on, for why.

November 7: I replied *I* want to download my record, but that his own tech support told me they don't have a way to do it! (Graphic, right)

They said I'd have to talk to Medical Records, which told me they don't have the ability to deliver electronically!

November 9: he replied in a post mysteriously titled What is patient and family engagement? – "mysteriously" because it doesn't answer the question, and because it again doesn't respond to my request.
My response:
John and I have known each other since before our 2009 dust-up about Google Health, when the BIDMC interface to Google sent garbage, not my clinical data. (More on this is in my "I want to download" post above.) He is a master (which I respect as a professional skill) of emerging from any accident landing on his feet and lookin' and smellin' great. :-)  But that doesn't solve any patient's problem. Sidestepping political problems is a skill, but it doesn't help patients sidestep risks and impediments.
Reader, if you haven't read John's Nov. 9 post, I ask that you do so. If I'm misreading it, say so in comments. And I know John will correct anything he's I've missed. [Typo fixed.]
First, let's stick to my original question: Where is the link you say nobody has ever used?? Your June post used that as an argument to say Meaningful Use was premature, but that's bogus: you don't have the link you say nobody has used.

If you don't have one, your assertion implodes and you have no case. You must concede, or rebuild your argument without that bogus sentence.
Worse, as my wife said in 2009 and I said recently, you belittle patients by saying we don't want what many of us are in fact asking for. (In 2009 you said insurance billing records were "confusing" to consumers, when in fact the picture they gave me in Google Health was false.  For instance, you sent them "Metastases to the brain or spine" when I in fact did not have that; nor did I have non-rheumatoid tricuspid valve disease, though BIDMC mysteriously billed them for it; nor did I have an aortic aneurysm (that was "upcoding"); etc.)

You say "patients typically do not want raw data, they want something actionable – the tools necessary to assist their navigation through the healthcare process."

What does your view of "patients typically" have to do with we who do want our raw data?? That's exactly like the 1912 election flyer that said to vote no on women's suffrage because 90% of women aren't asking for it. (Right??)
Let me refer you to this 2009 Tim Berners-Lee TED Talk, which ends with him urging the audience to chant "Raw data now!" (I know … what does the inventor of the Web know about data, compared to doctors, right?)
Most important: how does your interpretation help a family with a serious problem that does want their raw data, to understand the case or seek help from other providers? Do you feel you have a right to impede this?

You said, mostly correctly: "we do not know precisely what patients want. It would be hubris for any IT leader to speak for all patients. We need to try many different technologies and let the patients decide."

But I'd go an important step further: Give us our data, and let many innovators innovate for us. We do not want you to decide what you think will work best for us!
iOS is a minority of the citizen user base. Surely you know this.
John, you say you're developing an iOS-based solution, which will offer users the data you believe they need. I have two problems with this.
Who are you to decide? That's what's known as paternalism: "You don't know what's best – I do. I'll decide for you." What about patients with real medical problems, whose needs are different from your middle?
iOS is a small share of what people actually have. Everyone else's needs are in no way served by an iOS solution.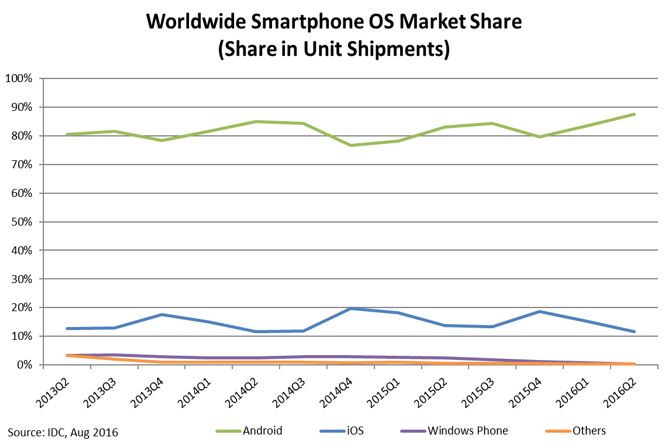 Here, look – IDC's August post on the subject, with the chart at right. "Android dominated the market with an 87.6% share in 2016Q2. … iOS saw its market share for 2016Q2 decline by 21%."
Don't like that graphic?  Google it yourself for more – iOS android market share.
Edit: below, commenter John Grohol points out that these are global numbers and we should focus on US market share, since Meaningful Use is a US policy issue and John's BIDMC app will only apply to the US, where iOS share is 40%.
On the other hand, I've heard in numerous countries that the same debate exists, so I guess it's worth noting both numbers.
I know you love Apple – me too: my family has 2 Macs, 2 iPhones, 2 iPads. It's fine with me if you develop iOS tools that will totally kick butt. But that doesn't help the majority of patients with medical problems. They will still need their data.
So while you work on iOS, my original need still stands: Give us our data. All our data. 
Your turn. Please change your policy. No, not "please." This has become a non-negotiable demand. I say your policy is impeding best possible care.
Develop the world's greatest iOS tool, if you want. Meanwhile, GIVE US ALL OUR DATA. Who are you to say paternalistically that we don't know what's best for us?