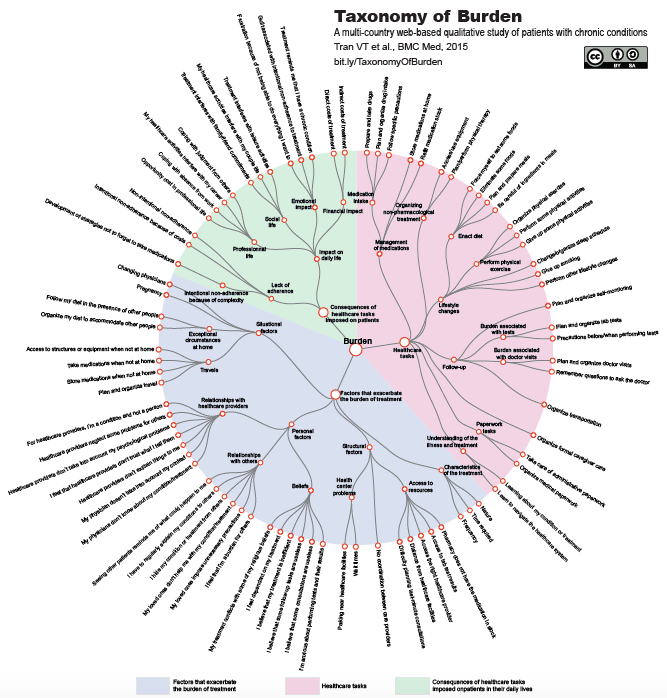 Response to this on social media has been very strong. Why? 
At conferences people are always asking how to comprehend what policy people call "patient experience." Too often they think it's things like "Was the food good? Did we smile for you? Was parking easy?" This diagram may help change that.
---
Have you ever been given instructions by a clinician that are really hard for you to follow? Have you ever thought to yourself, "Don't they know I have a life? And I have to take care of my sick mother, too, and my car broke down, and…?"
And then for many of us there are all the complications of managing multiple conditions.
Lots of people talk about the burden of a disease, but what about the burden of treatment – when the treatment itself makes life more difficult? How ironic, when the whole point of care was to make life better?
I first heard about this issue from the Mayo Clinic's Victor Montori when we both spoke last January at Maine Quality Counts.  (I blogged his slides and speech video: Careful and Kind Care for our Complex Patients.)
Yesterday I learned about the graphic you see here, which was published last year as part of a paper in the journal BMC Medicine. I love it. At the very center is one item: the word "burden." Coming out from it are three dots:
Healthcare tasks: the things you're told to do.
Consequences of healthcare tasks imposed on patients. (See above!)
Factors that worsen the burden of treatment: communication problems, getting to and from the doctor's office, etc etc.
Then, extending from each, are additional realities: under Tasks are paperwork, understanding the illness, follow-up, rearranging life etc etc; under Consequences are impact on work, financial impact, etc etc; under factors that worsen are the many many things that just plain get in the way of doing the right thing.
The "holy crap" effect
Why do I love this graphic? That whole thing could be printed out as an outline list, many pages long, but that has no "all at once" impact: you browse a list item by item, but this visualizes it all at once, making you realize: "Holy crap! Look at all this!"
I know some absolutely wonderful care professionals – usually nurses, but some great doctors too – who are fabulous about listening for the impact of these challenges on the patient's life. (Examples include my PCP, Dr. Danny Sands, and of course Victor Montori.) It really takes something for them to add this thinking to their existing burden of work and following regulations. Blessings on all such committed, caring professionals!
Share and share alike:
The diagram is from this article in BMC Medicine: bit.ly/TaxonomyOfBurden, by Viet-Thi Tran , Caroline Barnes, Victor Montori, Bruno Falissard and Philippe Ravaud.
I'm publishing this because I hope it will help us all understand some of the many ways it can be hard to achieve the best of care. You're welcome to download this, share it freely, take it to your appointments, etc: it's "Creative Commons Share-Alike with Attribution" – anyone is welcome to reuse it, as long as the credit is carried with it.