Regular readers know about "Mighty Casey" [left]: a very outspoken advocate for patient centered care who died in April. As her BMJ obituary said, she notoriously had a QR code tattooed onto her chest, linking to her complete medical history … because nobody in the health system could or would gather it all. So she did it herself. That's an empowered patient!
Well, it got the attention of people working in FHIR health data standards. And this past weekend, at an event called a "Connectathon," they hacked together a starter version of Casey's dream.
Here's the result – scan this QR code with your phone (or follow this link … same thing). It produces a human readable version of some of my own medical data.
The people who did this are working on a FHIR standard called IPS: International Patient Summary. There will be lots more to say about this later, but for now I want to acknowledge the work this weekend of the HL7 members who did this.
At this same meeting back in May, when I talked about Casey's passing, they told me that an IPS contains exactly the kind of info Casey would have needed. Right then and there we got the idea for this, and I'm thrilled it's already starting!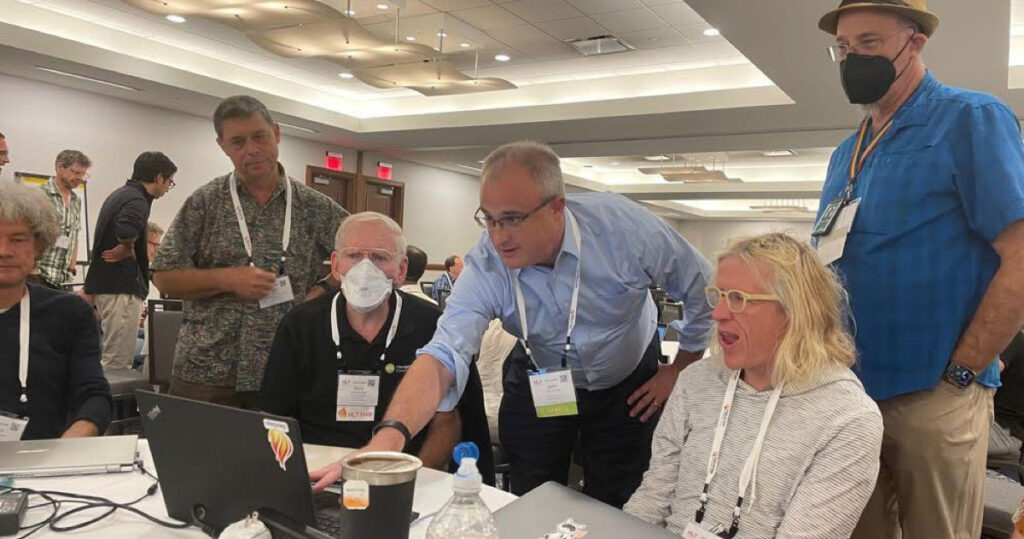 Again, this is just a start – a "proof of concept," as they say. But what a GREAT start! And people are already full of ideas for next steps on expanding it into a more full-blown reality. Love it!
==========
Update Sept 13: same data in another viewer
One of the best things about data standards is that they let the data be used by anyone who wants to write software to do it. So it's no surprise that within a day, while still at the meeting, I was approached by long-time colleague Nancy Lush, founder of Patient Centric Solutions. She and her team fed my same IPS file into their viewer, and voila! View it at this link.
For convenience I'll also paste in a screen capture of the top part. See? It's the same information, displayed in a different format.
Remember, by the way – although the IPS viewers shown here (my QR link, and the screen capture) are real products, my IPS data isn't from a working product: it was hand-coded by people at the Connectathon, and then viewed by these different viewers. The point is that the work Casey demanded has begun … and believe me, I'll keep you updated as important new developments arrive. :-)