Updated October 10: Added transcript of the video, at bottom.
On Tuesday morning, my Dutch colleague Lucien Engelen (Twitter @LucienEngelen) took me to the production studio in the attic of his little office and we shot this interview. I had no idea what questions he'd ask, and this was my day for jetlag confusion after a Saturday night redeye from the US. He edited it down, and boom, instant TV show! I'll explain the context in a moment, but first, the interview (13:37):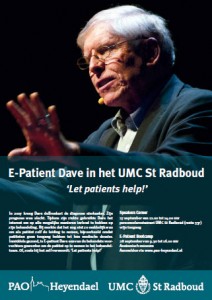 Here's a companion article (in Dutch) in Thursday's "Skipr" (Dutch health newspaper) about REshape, including this video and an audio interview (also in Dutch) with Lucien.
The setting: Radboud REshape Center