Updates:
________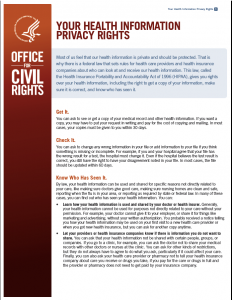 I've been infuriated recently by two "gimme my DaM* data" episodes where providers told me "No – you can't have the report. We only send it to the doctor."
That's illegal.
It's a Federal civil rights violation.
I am legally entitled to my medical record,
and you are entitled to yours.
Refusing to give it to you
subjects them to
Federal civil rights penalties.
Yet so many doctors and hospitals simply don't know this. In my case, two independent shops recently said no – a lab and a radiologist – leaving me powerless. Well, I don't take well to being powerless. So I acted. On Twitter today I said:
This feels ironic: a radiology shop is refusing to give me the radiologist report. Anyone have a link to "Docs MUST give pts their data"?
Within minutes I had responses from my excellent peeps @Rob_Havasy, @DLScherMD, @HealthBlawg, @AmyPricePhD – and then, the most awesome authority on the HIPAA privacy law, Deven McGraw, who tweets as @HealthPrivacy. They all linked to hefty pages packed with tons of information – as I told Rob:
I'll give it to them but the harried clerk at this practice will glaze over at this document. :)
(Seriously: I had a great conversation with the clerk who registered me, who was struggling to learn her new EMR system. I need something nice and official looking for her to take to her boss.)
Deven had the most useful link, which ultimately led me to the flyer above. It was all about a meeting I attended last year at the White House Office Building, which I meant to blog about, but didn't. At last, here's the info: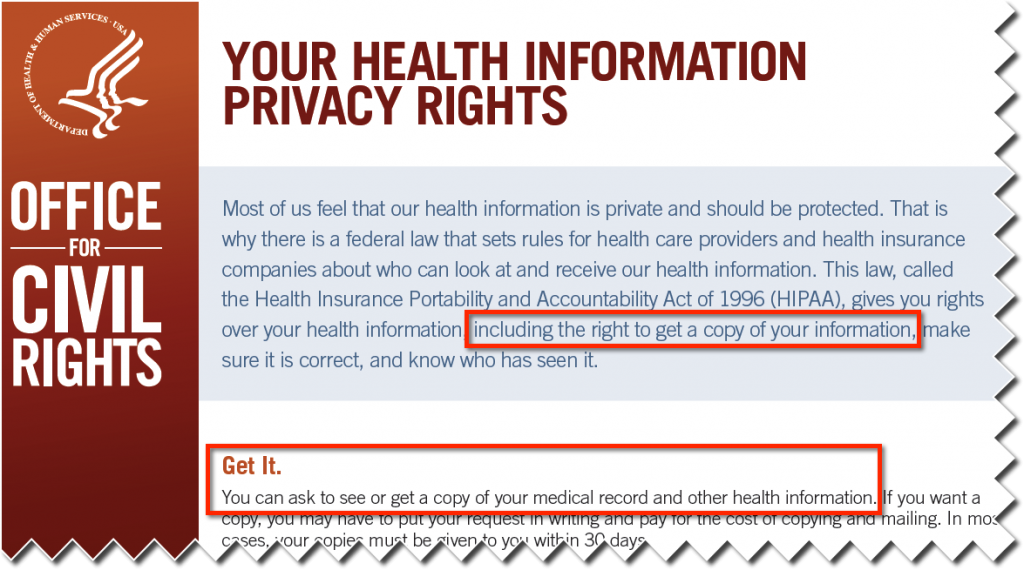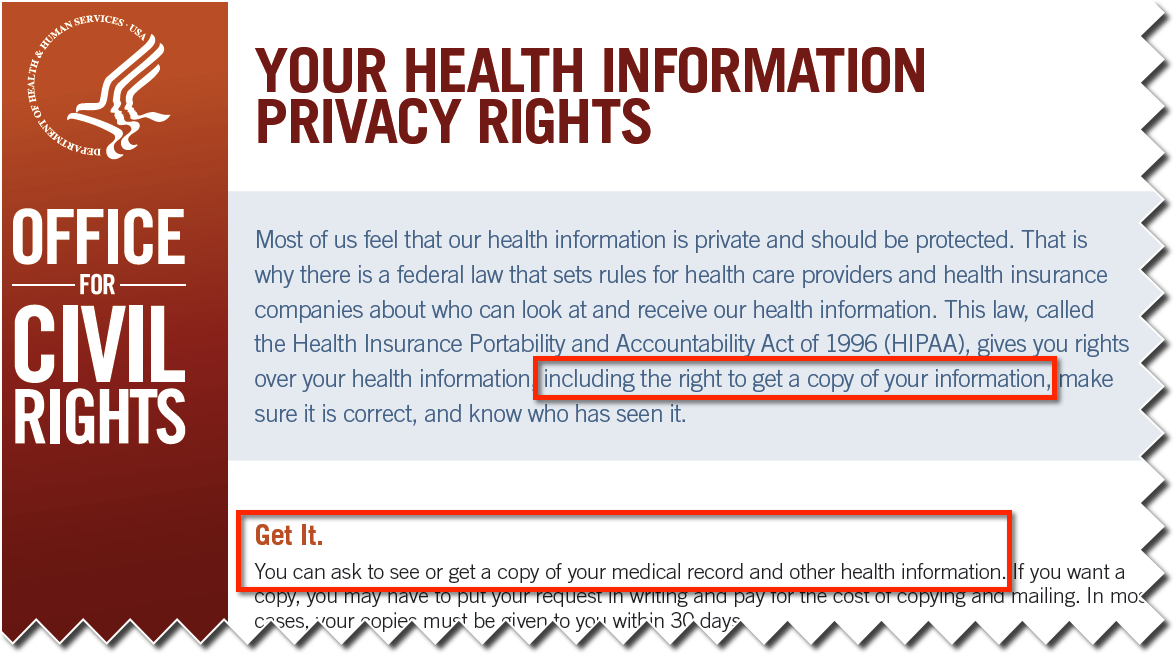 Walk in with this flyer. Many medical offices don't understand the law.
[Wording tweaked 7/20 & 7/23…] My first problem was at AnyLabTestNow, who did some blood tests and sent the vials to LabCorp. (I don't know which is the ultimate culprit, but AnyLabTestNow is the one who said "No, we don't give them to you – the results are sent to the doctor.") They did say I could get the results online, but not from them – via LabCorp's connection to HealthVault. But that was a month ago and the data still hasn't flowed through.
The second was Salem Radiology, for the foot x-ray I got this week. (Ironically, Salem Radiology gave me a free CD of the images – but wouldn't give me the radiologist's report saying what he found!)
Before I found this flyer, this morning I told the clerk, nicely: "Look, I know about HIPAA – I know I'm entitled to a copy of my record. Who do I have to talk to?" (Nicely, remember.) She put me on hold, and 3 minutes later came back and said "You can come pick it up – it'll be out front."
Score!  Note: they told me no, until I said (nicely) that I know my rights!
Note: in both cases, the provider and my doctor's office failed to transfer my information: the fax (yes, fax) disappeared and could not be traced. So I was delayed in getting what I paid for. (I paid for this out of pocket.) Plus, my doctor was delayed in getting the information.
If those idiots can't manage to transfer information reliably, that's one problem. (Yes, I'm mad.) They can work that out at their own snail's pace. Meanwhile, gimme my DaM data – it's all about me, so it's mine!!  I need that frickin' info, to be responsible for my health!
* "DaM" is Ross Martin's term for Data about Me. Here's that song again, if you haven't seen it.
Resources for Action
Let's keep the conversation going – if you try to get your data and need to threaten them with a civil rights complaint, let us know how it goes.