I'm a health data nudist: I don't care who sees my "privates," if doing so furthers the cause. And the time has come to push the issue, because my hospital is stonewalling, and that is just so not okay: as comments on my previous post show, this truly impedes care. And that must stop.
To end any mysteries about the much-touted PatientSite portal, in all its 1990s glory, I've decided to publish a complete 15-minute walk-through of everything in my chart, when I'm logged in PatientSite at Beth Israel Deaconess, the hospital that magnificently saved my life ten years ago.
Imagine yourself as a family in trouble, trying to gather a family member's information during a crisis, so you can seek additional help or just understand more. How would you react to BIDMC's Chief Information Officer, Dr. Halamka, blogging that they've offered "all patients, all data since 1999"?
Heck, we didn't even have OpenNotes until 2012, and even then it was only for primary care, not specialists.
Or imagine you're a software developer who wants to go about "screen scraping" (robotically  clicking everything) to collect all my data, to develop better software to view and organize it. I say that because several of them have asked me for help in this, so here it is. Would you like to write code to do this?
Dear John: if I'm missing anything, by ALL means let me know – seriously. So far in our exchange you've offered no corrections, so I'm proceeding assuming that so far I haven't missed anything, and there really is no way to do what you slanderously said no patient has ever tried to do. But if I'm missing something – particularly an API that would let any other hospital or developer get all my data – then by all means show us the link.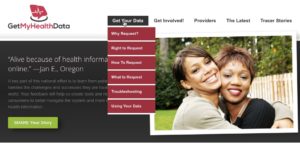 Citizens, if your hospital is stonewalling you, visit the excellent GetMyHealthData.org for legal and practical advice on what to do. It's your right!
---
Recap of this exchange so far
This is the next in a series in which I challenge my hospital's CIO, my friend Dr. John Halamka, to either back up what he claimed about patients, or revoke it, and in any case to deliver what he implied he offers, in June: the ability to download our records. I have decided I'm not going to let go of this, because his assertions have influenced opinions incorrectly – several people have grapevined to me that people are quoting you on this, John. That is so not okay – you're influential, and false statement hold back progress.
Previous posts:
This video is a follow-up, to show exactly what I'm talking about.  As I say in Let Patients Help, clarity is power.
In summary:
Repeating my non-negotiable questions:
If you don't have one, your assertion implodes and you have no case and you must rescind.First, let's stick to my original question: Where is the download link you say [at right] nobody has ever used?? Your June post used that as an argument to say Meaningful Use was premature, but that's bogus: you don't have the link you say nobody has used.
What does your view of "patients typically" have to do with we who do want our raw data??
Who are you to decide what data we should get and what platform we should use?

That's what's known as paternalism: "You don't know what's best – I do. I'll decide for you."
You're opting for iOS. What about patients with real medical problems, who don't have that platform? As I said in the post, iOS only serves a minority.
I know you love Apple – me too: my family has 2 Macs, 2 iPhones, 2 iPads. It's fine with me if you develop iOS tools that will totally kick butt. But that doesn't help the majority of patients with medical problems. They will still need their data.
So while you work on iOS, my original need still stands: Give us our data. All our data. 
Your turn. Please change your policy. No, not "please." This has become a non-negotiable demand. I say your policy is impeding best possible care.
Develop the world's greatest iOS tool, if you want. Meanwhile, GIVE US ALL OUR DATA. Who are you to say paternalistically that we don't know what's best for us?