Have you done something useful with your medical data to help manage your health? (Or someone else's)
Perhaps others would find it useful… either your exact tool or your general method! In any case, share it with us, and maybe you'll get brought to Amsterdam for …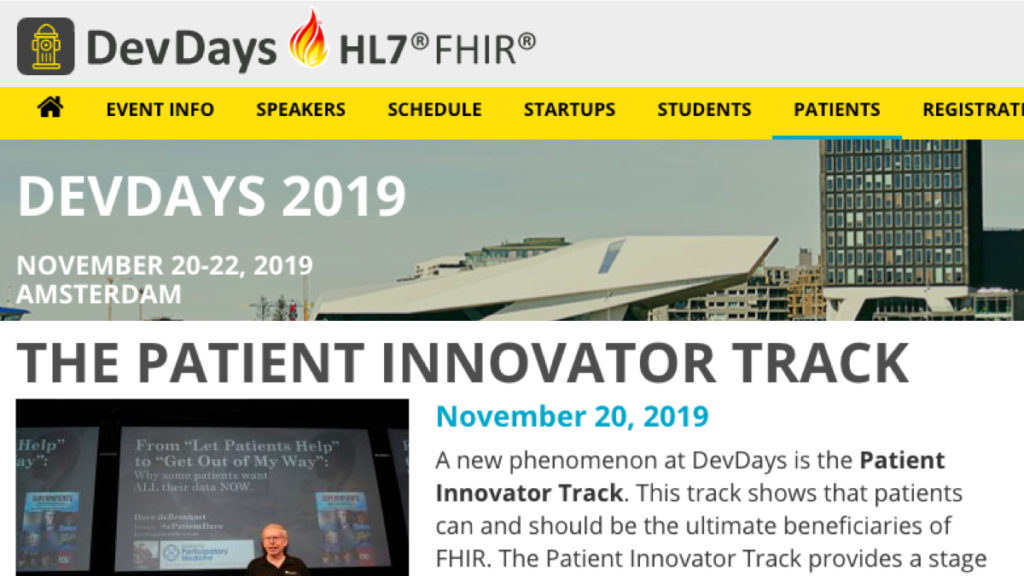 Time is short: the deadline for entries is Oct. 1.
(But the process is simple – details below.)
Who and what:

The HL7 (Health Level 7) organization, which creates standards for health data, has been working for years on a new standard called FHIR (pronounced "fire"), which promises to greatly increase everyone's ability to get their data. Health data people know about FHIR, but it's finally time to start raising public awareness – because a core part of HL7's mission is to serve you, the public, in addition to the healthcare industry.
They've announced a competition for innovative patients to share what they've done with data to better manage someone's care (their own or another's). Four finalists will win a trip to a health data conference in Amsterdam, and one winner will get technical help in expanding it into a product.
When and where:
On November 20 in Amsterdam, at the semi-annual FHIR "DevDays" conference ("Developer Days"), four finalists will pitch their ideas to a panel of judges. (I'm one of the judges.) For those finalists, your expenses to Amsterdam will be paid!*
And even if you're not a finalist, your idea might get wonderful publicity to help others.
The HL7 FHIR community really means it.
I spoke last year at DevDays (see video link below), appealing to the FHIR community to help us, the sick people, to get unlimited access to our health data. And OMG, they totally agreed – because it's in their vision and mission:
Not only that – unlike anyone else I know in health IT, they put their money where their mouth is, and they're going to fly four patient innovators to Amsterdam! (Or drive them, if they're local…)
Eligibility and Criteria for selecting the four finalists:
General:
What you submit must be something you're already doing or have already done, to use your health data to help manage your health or care.

There are no limits on what "health data" is – it might be something from your doctors, but it could be information you gathered yourself. It just needs to illustrate how patients can better manage their health if they have information! (Duh.)

Does NOT have to already be a software product. We're looking for true stories of patients who improved health or care by getting involved in the medical data.
But note, software developers are welcome too ("who have built patient facing apps with the same goals, as long as they have active patient engagement in building their product.")
Criteria for selecting the four finalists, and for judging in Amsterdam:
Has what you've been doing had a direct impact on the patient's health or treatment?
Does it empower the patient to take control of their health, using data?
Is it applicable for other patients? (i.e. what you've been doing could be useful to others – either your specific work or your general approach)
Does it have proven value when used in daily life?
Timeline
Oct 1: deadline for submission of entries
Oct 2-7: judging
Oct 8: announcement of four finalists who will be brought to Amsterdam*
Oct 8-Nov. 19: If selected, develop your pitch. (We'll provide advice)
Nov. 18-19 approx: fly to Amsterdam
Nov. 20, Amsterdam: the finalists deliver their 10 minute pitches, and judges announce the winner.
The selected winner gets:
In addition to the trip to Amsterdam, the winner will get some sort of technical assistance (to be determined) in perhaps turning their idea into a working product.
For more information:
The above may be all you need to get involved. If you want more information, here are some resources:
How to apply
By October 1, fill in this simple online form saying what you've done to use data to manage your health, and how it might help others.
Don't be shy, and don't doubt yourself – we'd love it if we get many many submissions showing that patients do care!The total of our submissions may change the culture of care, even if each one alone wouldn't.
Questions?
If you have any questions, contact Marita at devdays@fire.ly or me, at dave@epatientdave.com.
Spread the word!
By all means send in your ideas – the more we get, the better. Some people still ask "What would patients even DO with their data, if they had it??" The more examples we collect, the better.
Updated Sept 14 – wording to include care of another, not just yourself.
---
* Expenses for one person: coach airfare, hotel, etc, up to €1,500 (roughly US$1600).