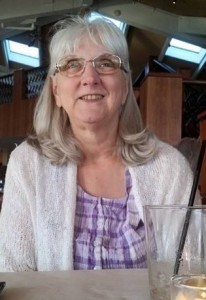 This is a verbatim copy of an extraordinary blog post last year, which I updated several times.
It was a year ago today that orthopedist Howard Luks @HJLuks replaced both my wife Ginny's knees in one day, and as you'll read, his method is so incredible that not only did she get no transfusions, her bandage didn't even need to be changed until the follow-up visit weeks later. And as you'll see, the progress of her recovery was extraordinary.
Want new knees? Read how Howard does it. Know anyone who's considering new knees? Share this with them, please! I even gave it a memorable URL: bit.ly/ginnyknee
---
July 7, 2015
On Facebook Friday I posted this picture of my wife Ginny, saying "There is an astounding story behind this photo. Details Monday." Well, it's Monday.
As you read this, bear in mind, your mileage may vary – everyone's different, this wouldn't be appropriate for everyone, and Ginny herself played a big part in it.
The astounding story:
In this photo we were out to dinner, nine days after Ginny had both knees replaced. She walked into the restaurant using only canes – no walker, no wheelchair. The surgeon is Howard Luks, the social media orthopedist (@HJLuks), whom I met on Twitter in 2009, and the surgical approach he used is called muscle-sparing (or "quad-sparing") minimally invasive surgery, part of a larger package of methods he uses, described below. Bottom line:
None of her muscles were cut
She had no transfusions
She has not needed to have any of her dressings changed
She left the hospital on day 3, was discharged from rehab 8 days after surgery, and today on day 12 we're returning to New Hampshire, to continue outpatient physical therapy from home.
Of course she's still on pain meds, tapering down, and her endurance is of course limited. But she is basically functional and able to live on her own if she needed to, or rehab wouldn't have discharged her.
Here's a video of her walking around the hospital floor – 500' – with a walker for balance (not leaning on it), less than 48 hours after leaving the O.R., and on the right, at rehab, walking with just canes, a week after the surgery:
She was discharged from rehab after demonstrating (among other things) that she can safely walk up and down a full flight of stairs … six days after the surgery. She can get herself into and out of bed, into and out of our Prius, etc. She's not speedy at any of it but she's functioning reliably.
(Of course I have Ginny's permission to talk about all this. Also, I'm an e-tool geek and she's not, so I'm the one using the tools discussed here.)
Again, everyone, please read this: your mileage may vary – everyone's different, this wouldn't be appropriate for everyone, and Ginny herself played a big part in it.
The part Ginny played, as an activated, engaged patient