In three weeks at the Mayo Clinic, as their invited Visiting Professor in Internal Medicine, I'll be delivering the most fascinating talk of my career. I'll be formally starting the process of examining whether we must all agree that there's a hole in the dominant paradigm of how medicine works, and whether we must solve this together by creating a new, scientific approach to patient engagement.
To start, please watch the four minute video below. For convenience, and to make it more searchable, at bottom of this post is a transcript.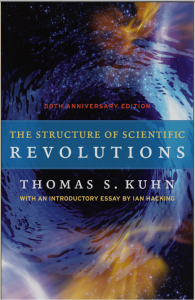 To do this I'll be using the 1962 book that brought the word "paradigm" into popular use: The Structure of Scientific Revolutions, by Thomas Kuhn. His definition of paradigm was much more strict and rigorous than the trendy loose word we throw around today; he studied numerous scientific revolutions (Newton, Copernicus, etc) and identified a regular, repeated structure to the process by which a scientific field takes form and then, sometimes, realizes a revolution is needed.
The process is both scientific and sociological – a fact that annoyed the crap out of scientists who believed that they are solely logical. From Wikipedia:
[Read more…]