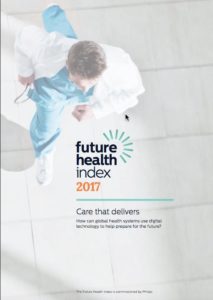 Again this year I was thrilled to be invited by Philips to participate in their Future Health Index project. This is among the most visionary annual healthcare overviews in the world. The full report – a 100 page PDF – is available free here.
Each year they've also asked me to submit a post for the project's blog. Here's my submission this year, touching on why oncology is ahead of most specialties in this area: the field decided years ago to align for patient benefit!
Let's all do everything we can to help healthcare achieve its potential! Sharing information is part of that.
---
The value of sharing data:
What healthcare can learn from oncology
Decade after decade, innovations change the future of care. Microbes, anesthesia, surgery, transfusions, public health, radiology, penicillin, genomics … each development produced a quantum shift in what clinicians can achieve and in patients' lives.
I wrote an article for the Future Health Index last year, Could data make you live longer?, which lists six different ways I as a patient can be empowered by better data flow. Similarly, it turns out one of medicine's next great frontiers is not biological but technological: the ability for clinicians to share relevant patient data with others.
In this innovation, oncology is ahead of other specialties: the 2016 Future Health Index report found that 71% of oncologists across 13 countries share patient data electronically, while only 63% of other clinicians do.
Why? What can we learn from this?
A big factor is that oncology as a profession decided nearly a decade ago that electronic data sharing is core to their work, and spoke up about what they need.
[Read more…]